Today, it is exceedingly rare to find a peaceful lakefront town that is close to larger cities, offers proximity to shopping, recreation, and healthcare, and is still relatively uncrowded and affordable. Perhaps this is why Lake Cowichan has been named "Vancouver Island's Best Kept Secret" by locals.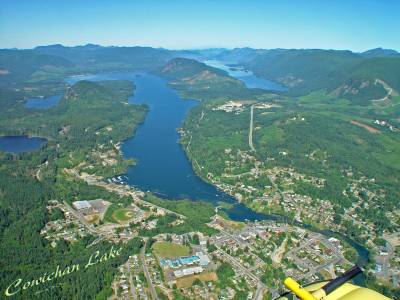 Cowichan Lake Aerial View
Cowichan Lake, known as "B.C.'s second most pristine lake" according to Wikipedia, is situated midway between Victoria and Nanaimo on Vancouver Island. It is a large freshwater lake and was formerly an integral part of the once thriving logging industry in the Cowichan Valley. Logging companies still own much of the land surrounding the lake; however, the mills closed long ago and bit by bit, small parcels are being sold off. Today, new development is focused more on the recreational opportunities offered by lakefront living than the potential profits from the lumber surrounding the lake."
"Set in one of Vancouver Island's sunniest valleys, this area boasts the highest average annual temperature in Canada."
Gordon Bay Provincial Park Website
There are several communities located on Cowichan Lake including Mesachie Lake and Honeymoon Bay, along the south side, and Youbou on the north side. The largest town on the lake; Lake Cowichan, is located on the eastern shore. With a population just under 3,000, Lake Cowichan's location and natural beauty, combined with its proximity to essential services, are making it an increasingly popular, though still "off-the-beaten-path" retirement and second home destination.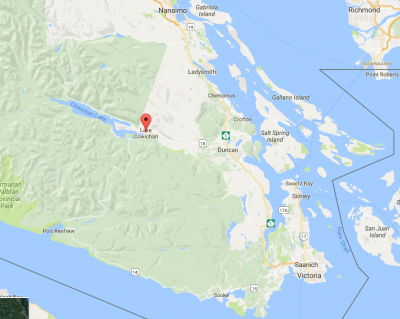 The location of Lake Cowichan, as seen in relation to Victoria and Nanaimo.

Our member agents and area experts, Sandy Stinson and Pat Duringer, have both lived in Lake Cowichan since the days when the mills were still running and have experienced all of the changes that are coming with the new focus on recreation and tourism in the area. We recently had the chance to talk to Sandy and Pat about real estate on the lake and what it's like to live in this quiet community.
To find out more, check out our Q&A with Sandy and Pat below:
---

Sandy has lived and worked in Lake Cowichan for many years, which included raising a family of four and working in property management. She has decades of experience in real estate. She was licensed back in 1993, and since then, her life has revolved around real estate. Sandy is also an "eco-broker" and tiny house enthusiast.
Sandy Stinson, Owner & Broker, RE/MAX Lake Cowichan
1. How is the current market and w

hat is the average price of a typical single-family dwelling, lot or waterfront property in the area?
The market is fantastic right now. We have had our best year since 2007 this year and are even experiencing a lack of inventory currently. The waterfront market is hot and well-priced properties are selling right away.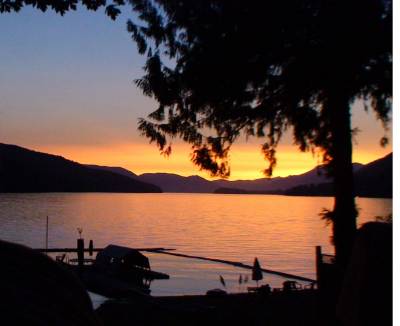 In addition to developers, who are just beginning to see the tourism and retirement potential of the area, Sunfest has put us on the map. Sunfest is a family friendly annual country music festival started by a local entrepreneur. He purchased a 170-acre parcel and built a world class amphitheater for the arts on it. Sunfest has hosted big name headliners such as Carrie Underwood, Keith Urban, and Tim McGraw so this has brought an influx of new people to discover the area each year.
Lake Cowichan Area Real Estate Statistics (as of Nov. 2016)
Single-Family Dwelling
• Average List Price
$291, 205
•Average Sales Price
$281, 302
Lot
• Average List Price
$123, 055
•Average Sales Price
$111, 412
Waterfront Single Family Dwelling
• Average List Price
$734, 705
• Average Sale Price
$692, 502
Waterfront Lot
• Average List Price
$383, 133
• Average Sale Price
$360, 833
2.

Can you tell us a bit about demographics? What is the typical profile of someone who lives in Lake Cowichan year-round and where do buyers originate?
The Vancouver market pushes the Victoria market, and the Victoria market pushes people in our direction, so most of our buyers are retirees from Vancouver or Victoria; however, we still see a lot of Albertans, despite the downturn in the oil industry. We also have the occasional American who chooses to move and settle or invest here.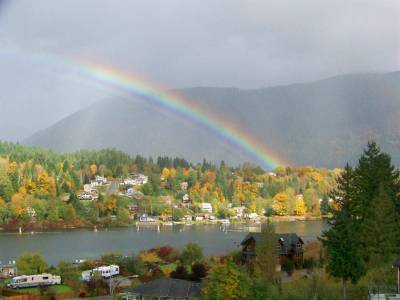 Rainbow across the water in this picturesque retirement community.
The community is a mixed bag of different types of people. We have a lot of younger retirees who are still very active and into the farm to table movement. They have moved here to take advantage of the excellent growing conditions and create rural homesteads to grow organic fruits and vegetables. Interestingly, there are also a lot of new wineries popping up in the Cowichan Valley, with 15+ tasting rooms in the area.
We also have quite a few buyers from other areas of the island that are purchasing second homes or vacation homes here.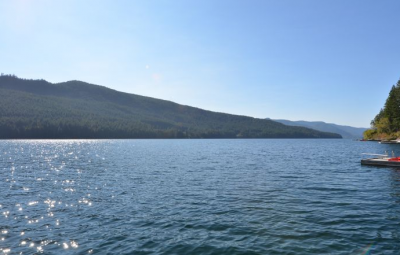 Pristine and peaceful, Lake Cowichan makes a great second home spot for islanders looking to escape the city.
Densification is just starting to happen with the recent introduction of the area's largest development, Woodland Shores. There is also a growing group of tiny house enthusiasts here who have large yards and small living spaces.
3. What type of jobs are available for people who live in Lake Cowichan and the surrounding areas year-round?
While we have many retirees, there are also people here who work year-round. Some work in the service industry, while others are professionals and they either commute to Nanaimo, have small local practices or work from home and online. The drive to Nanaimo is generally under an hour and is predominantly flat highway driving, so it's faster than going over the Malahat to Victoria.
4.

What are the most sought-after waterfront neighbourhoods in the area?
The most sought after area for lakefront is probably the sunny side of Lake Cowichan up to Youbou, including Spring Beach. This area is popular because it gets the late afternoon sun. Honeymoon Bay, on the other side of the lake, is also popular and has some upscale properties and expensive waterfronts. Properties with existing homes are also sought-after because you can own right out into the lake, whereas for new development, there is a new 90FT riparian setback.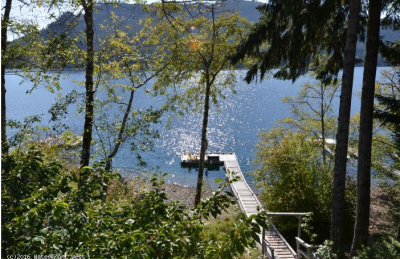 This pristine lakefront home, located in Youbou, includes direct lake access, your own dock, and an upscale 3-bedroom home for only $775, 000.
Cowichan Lake is a warm swimming lake and the are is said to have excellent feng-shui due to the positioning of the mountain. I was told by a geologist once that the marble composition of the mountain also helps retain the heat of the lake. This warm weather makes lakefront a hot commodity for people looking to buy here for recreation.
5. What are the medical and elder support options in the area?
While we have a clinic here, one of the great things about our area is that we are also so close to major medical facilities in Duncan. Duncan has a full hospital with emergency services, and a brand new hospital is in the works too. We have emergency service in Lake Cowichan and can get to the hospital quickly as it's only about 30 km from here.
6. What about educational facilities?
We have both an elementary (K-3) and an intermediate/high school here (grades 4-7/8-12). The elementary school is right next to a salmon bearing stream, and the school is responsible for partial stewardship of it. This setup provides the students with a great opportunity to learn about nature firsthand.
We are also close to am few prestigious private schools including Queen Margaret's in Duncan and Brentwood College in Mill Bay.
7. What do people do for fun?
Besides gardening, which is very popular here, of course, there are a plethora of other outdoor activities to enjoy. The lake offers great fishing (trout), windsurfing, paddleboarding, houseboats (in summer) and even sailing. Quadding and hiking are also very popular as there are a lot of trails here. Finally, the Cowichan River runs right through the town of Lake Cowichan, and tubing is very popular in the summer.
Loads of trails surround the lake with many opportunities for biking, quadding or hiking.
Gordon Bay Provinciial Park is a favourite spot for camping and swimming at the sandy beach.
We are also very close to the ocean and salt water activities like salmon fishing, crabbing, sailing and more. With Cowichan Bay and Mill Bay to the west and Port Renfrew to the east, we can access it from either direction.
We have a local ice rink for skating, hockey, Lacrosse, Curling and the like, but we are also close to excellent recreational facilities and team sports opportunities in Duncan.
8. Are there grocery and shopping options close to Lake Cowichan?
Yes, we have a local Country Grocer and pharmacy which supply all of the basics. We also have a wonderful local Farmer's Market. Besides that, it's just a hop, skip and a jump to the larger cities with the big box stores.
9. What is your favourite thing about the area?
The area is drop dead gorgeous. It's close to the major cities but is still a small town with the small town vibe and tight-knit community. We can be at the ocean, lake or mountains within thirty minutes.
---

Pat has lived and worked in Lake Cowichan for 20 years. She has worked in both property management and real estate sales, and she loves the tight-knit and welcoming community along with all of the recreational opportunities the lake offers.
Pat Duringer - Realtor, RE/MAX Lake Cowichan
1. How long have you lived in Lake Cowichan and what drew you here?
I moved to the Lake Cowichan from Duncan 20 years ago to work with Sandy. We have been working together for 20 years, and we make a great team. Originally, I was in property management, but now I do both property management and real estate sales.
2. What is your favourite thing about the area?
I love the outdoor opportunities. My husband loves to fish, and he can fish for trout with his down rigger because the lake is deep. I swim almost every day in the summer, and we live right on the water, so it's very convenient to access all of the recreational activities the lake offers.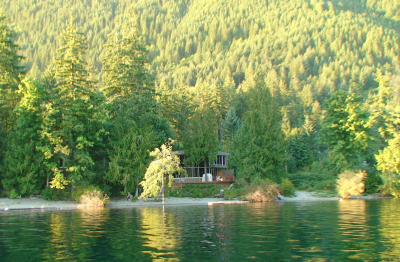 A sandy beach, privacy, and warm water swimming: A perfect combination for summer fun.
My other favourite thing is the people. The community is very welcoming and friendly, and everyone knows each other. With my current position, I can say that I know almost everyone who has moved here in the last 17 years, which I love!
---
So the verdict is in: with a superb climate, a plethora of outdoor opportunities, a tight-knit community and easy access to medical services, shopping and recreation facilities, Lake Cowichan remains an affordable escape and retirement destination...for now.
Based on all of these benefits, it should be interesting to see just how long it will remain "Vancouver Island's Best Kept Secret."