Back in 2002, my boyfriend and I were spending our days crawling through the Vancouver traffic mess, going to mediocre paying jobs and wondering how we were going to be able to have a family while still maintaining a decent lifestyle in the big city. Don't get me wrong, Vancouver is beautiful, it's vibrant, full of world-class restaurants, a plethora of outdoor activities and enough cultural diversions to keep anyone entertained; however, we were not taking full advantage of any of these things...
....because we were too busy tackling traffic jams and working like mad to pay the rent on a dark and mould-contaminated basement suite on the West Side.
Over the course of the next few years, we slowly came to the realization that we should move out of Vancouver to a smaller British Columbia community. The decision was not made quickly or taken lightly. Rather, it evolved gradually and involved many factors, the most important of which I have listed below, along with the story of how we did it and what we have gained in return.
I could probably write a few hundred more words about why we moved, but I have narrowed it down to the three main reasons we felt compelled to leave Vancouver, which I have listed below:
1. All Things Traffic:
Congestion, Commuting and Time Wasted Driving.
(source: Vancouver Sun article based on Nov 2013 Tom Tom Report)
By the time we made the decision to move to Vancouver Island, I had worked downtown for over 8 years. I had tried all forms of transportation to get to my job in the Marine Building (in the core of the downtown financial district). These included walking, transit, and also driving and parking somewhere relatively cheap (then walking through some dodgy areas to get to the office). Finally, for the last year we were there, I biked, which was by far the most enjoyable and fastest way to get downtown of all of the options I had tried. Still, I took my life in my hands every day and biking in February was no fun task (although still better than transit).
Don't even get me started about parking tickets in Vancouver...that's a whole other blog post!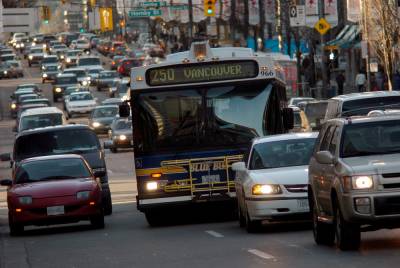 First deciding factor for us to get outta town? Traffic! Hands down
2. An Insane Real Estate Market.
Inability to Compete with Flippers and Investors as a Young Couple.
According to the CBC, a recent survey by Demographia rates Vancouver's housing the second least affordable in the world and claims that homes in Vancouver cost ten times the median income. An acceptable amount is considered to be three times the median income, so that's a pretty big stretch for the average Vancouver family. The Demographia report states that, "Housing affordability is an important determinant of the standard of living, because higher-cost housing leaves less discretionary income," which is exactly what was happening to us. With these kinds of statistics, I'm just going to go out on a limb here and bet that there are a few Vancouverites, renting or owning (but that's a whole hot other topic) who are currently in the same boat we were...
At that point, in late 2001, moving out of Vancouver was not even a consideration for us, but I realized that with little to no savings, the high cost of living and average paying jobs, we were never going to be able to get ahead financially in Vancouver without some action. That's when I started reading real estate investment books and got the idea in my head that we needed to buy some property ASAP, before we were priced out of the Vancouver (or any) real estate market...forever. Needless to say, my boyfriend was hesitant. After all, even though it was in the plans, we weren't married yet and what about money for the wedding, etc...?
Once I have an idea in my head, it's hard to convince me otherwise (just ask my now husband), so I persisted in gently promoting my idea to him for a few months and got the wheels turning by finding an agent. I looked at the historical numbers and realized that as long as we could afford our mortgage payment through the ups and downs of the real estate market, according to all of the factors at the time (interest rates, upswing in market, etc...) we couldn't really go wrong with owning Vancouver real estate. Hesitantly, my boyfriend agreed and with the help of a generous "donation" of a down payment from my father (who counselled us that we could use the money however we wanted, but made it very obvious that real estate was his preference), we got pre-approved for a mortgage.
Even though there are ups and downs like any real estate market, over the long run it just seems to keep appreciating at a steady pace.
At the time, with our measly salaries, we never imagined we would be able to get approved to buy a single family detached home in Vancouver; rather, we thought maybe a condo or townhouse? We wanted to stay close to the city as we hated commuting, so moving to the burbs was out of the question. It was also at this point that the idea popped into my head that we might not be able to afford anything in Vancouver and have to purchase something out of town as an investment or.....for the first time, I thought, maybe a possible future family home?
Well, shockingly, we got pre-approved for a whopping $250, 000. Yeehaw!
And can you believe....at that time.....way back when in 2002,
....it was enough money to buy us a HOUSE in our preferred neighbourhood of Main!
Oh, how the times have changed from the good 'ole days of 2002.
Long story short, we bought a little 1911 heritage house right on King Edward. The house featured such highlights as stained glass windows painted over with brown paint which shook every time a bus passed (pretty much every 5 minutes), front porch falling in and a living room which looked suspiciously similar to the photo I found below at UglyHousePhotos.com....but it was solid and strong nonetheless.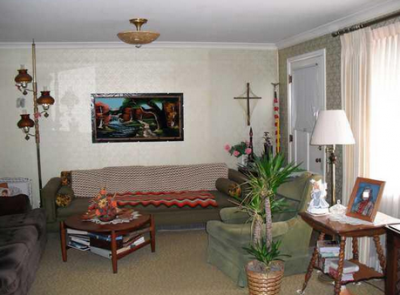 This glorious photo is similar to how the living room of our soon to be Vancouver home looked when we viewed it prior to purchase.
Over the next year, we worked tirelessly renovating every detail, stripping paint, fixing up the yard and exterior...with the idea that we would sell it and buy another bigger fixer-upper on a quieter street in the same neighbourhood.....hahahahaha. By the time we were ready to sell, investors and flippers were buying complete dumps in the neighbourhood, sight unseen, for $500, 000 cash and with no conditions so there was no way we could compete.
3. Perceived Lack of Quality Time with Children
(Note: These are not listed in importance, but rather chronologically otherwise #3 would be listed first:).
With our upcoming wedding and thoughts of kids in our heads...ok MY head, deciding factor number three reared it's head. I was on the phone with my friend in Toronto who had recently had her first child, when she mentioned that with the high cost of daycare in Toronto, after going back to work, childcare costs were taking up almost all of her salary. She had an excellent job but told me that it was barely worth her working full-time as they only ended up with an extra $500-$1000 left after the daycare fees every month, but that she couldn't quit because they needed that extra money. I realized that we would be in the same position if we stayed in Vancouver. I really wanted to be able to be around for my future kid/s and the idea of having to hire a nanny or have my child in full-time daycare just so I could make a few hundred extra dollars every month was not sitting well with me.
Oh yeah, that...and a teenager was beaten to death in November of 2003 at the school close to our house.... . If you know Vancouver, you'll know that the Main neighbouhood between around 18th-35th is a super trendy and fashionable area of million dollar + homes, fancy coffee shops and clothing stores. It wasn't the most expensive part of the city, but it wasn't like we were living in the "bad" area or something. Needless to say, the beating was very unsettling and solidified our decision to move.
So....we did some demographic research on smaller communities in British Columbia and settled on the Comox Valley on Vancouver Island. After a year and a half of exhausting work, our Vancouver house was worth $401, 000 (how's that for appreciation?!!) and that's what it sold for in a bidding war, in the first week on the market. We had three offers on the day of our open house and buyers came to the showing with their inspectors so they could make "no subject" offers. Yes, it was an insane market! We had hit the jackpot (hindsight is 20/20), but we also realized that there was no way in hell we could buy a bigger fixer upper in the same neighbourhood on a quieter street (and after the above events, we didn't really want to anyways....).
.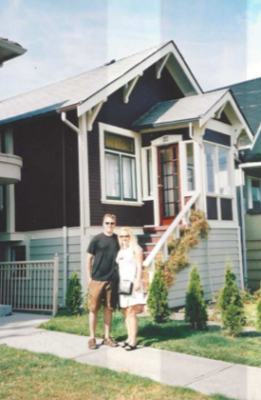 King Edward House, Main Street Area of Vancouver - After we fixed it all up (Sale Price $401, 000)!
We moved to Courtenay, where we bought a much larger character home on a much larger lot for MUCH less ($155, 000). Our standard of living went up 300%. No more traffic noise, a "big" lot 40' x 120,' a bigger house, uncrowded parks and beaches, a ski hill close by and no more commuting. Actually, no more jobs either....we both started our own businesses.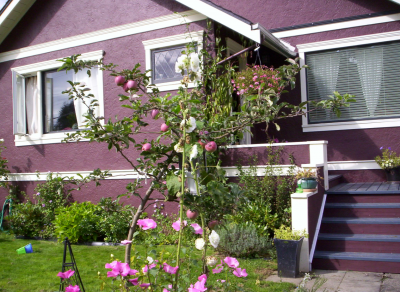 Comox Valley House - Purchase Price $155, 000 (although this is after we painted and fixed it up a bit)
My husband always reminds me of my famous quote as we were sitting on our back porch with some wine one starry, warm summer evening right after the move. "I think I can hear the hum of the traffic from the highway," I said, to which he responded with one of his characteristic, "You didn't really just say that? Did you?!" smirks. He actually had a hard time convincing me it wasn't traffic, until he pointed out that there is hardly ever traffic on the Inland Island Highway going to Campbell River, let alone at 10PM at night. What I was actually hearing was the sound of the rushing water of our favourite tubing and swimming river a 5 minute walk from our new house....d'oh. City girl, slow down and meet country!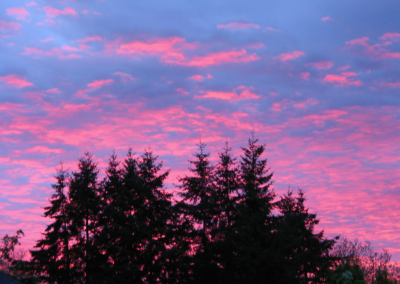 Ahhhh, now that's more like it -Summer Night's View from the Back Porch of our First Comox Valley Home
Now, I'm not saying everything is perfect and stress free over here. For sure, there are some things we miss about Vancouver ( old friends, the variety of really great ethnic food at really great prices, our favourite haunts like Bean Around the World ) and owning your own business has it's own stresses. Making a living in a smaller community can be more challenging than having a solid paying, stable job in a larger centre but what we got in exchange was freedom.
Freedom from:
Traffic, crowds and commuting.
Having to work for someone else.
Hordes of sweaty, competitive Lulu and Nike clad joggers, Iphone attached at ears (aka Grouse grind style) on trails

(

okay, I admit, we still love our Lulu and Nike over here and are fitness fanatics - it's just not as crowded on the trails...

)

Having to procure full-time daycare for our son (although we did still get some help from an awesome relative!).
Parking fees and parking tickets (so far!).
What we gained was:
A small, vibrant and close-knit community with tons of festivals and a fabulous Farmer's Market.
New friends!
More time with family.
Ability to spend time with our son rather than having him in after school care or other programs during the year.
A huge lot with a gigantic organic garden (we have since bought a larger home on a larger lot), fruit trees and tons of space for kids to run and play.
Nature trails and wildlife galore.
Access to a French Immersion School walking distance from our house with no insane wait lists.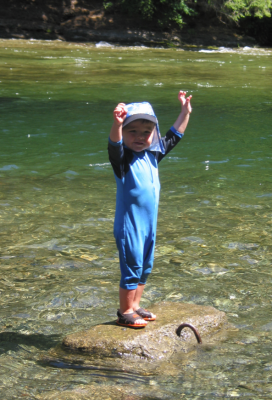 Puntledge River - 5 Minute Walk from our House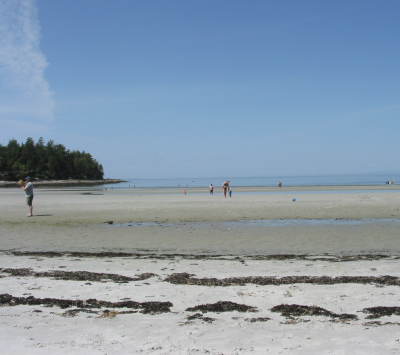 Sandy Beaches within 15 minutes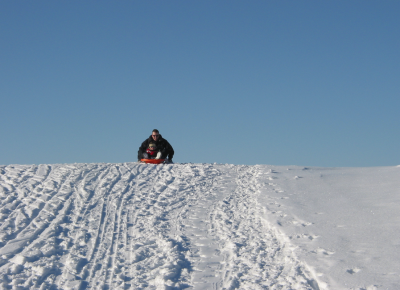 Mount Washington - 20 Minute Drive to Top of the Hill
So, if you live in Vancouver and love it kudos to you! If you own a home there even better! We love it too, but it just didn't "fit" with our family goals any longer. So...if want to get the hell out like we did, why not do your research, check out the demographics, job opportunities and house prices of some other B.C. communities.
If you already own some prime Vancouver real estate, you're way ahead of the game. You could sell your average single family detached home in Vancouver for around $1, 000, 000 and buy a nice single family home in the Comox Valley, for example, for a mere $348, 233. You might even end up with a home, a small or non-existent mortgage and a nice nest egg to boot. If you own a townhouse or condo in Vancouver, that will buy you a nice 3-bed, 2-bath single family detached home on a decent sized lot in many smaller B.C. communities. If you're nearing retirement, it's kind of a no brainer in my opinion...that's probably why the Comox Valley is becoming such a haven for retirees. This article, from the Globe and Mail, has some good advice for you if you're thinking of retiring to a smaller community, with a few areas pre-selected to cut down on your homework.
Still renting? When real estate is cheaper, the cost of living goes down and you can probably survive on less income than you do in Vancouver. Why not look into job opportunities in other communities where the cost of living is lower, crunch some numbers and see if you might just come out ahead? Our move allowed my husband to work in a much more rewarding career and allowed me to be home with our son when he was little and still run a business without having the stress of having to make a six figure income to afford our housing payments.
If you choose to take the plunge, keep in mind that once you sell your Vancouver real estate and purchase a less expensive home elsewhere, it might prove difficult to buy back into Vancouver in the future; however, I'm betting you probably won't want to anyways...
In my next blog, we'll take a look at some places you Vancouver real estate dollar can buy you in other areas around the province.