If you read this blog regularly, you will have seen my last post about how my husband and I managed to escape Vancouver, sold-out and moved to the small but vibrant community of the Comox Valley on Vancouver Island. Here, we purchased a nicer house with a much bigger lot and still managed to have some cash in hand (albeit no jobs...).
Having been settled here for over 8 years now, we are well established, have our own businesses and will never look back. We love it and our standard of living has gone through the roof from what it was in Van city. Although we miss some of the perks of urban living, we have traded them in for a less stressful way of life, a close-knit community, extra family time, a huge yard with an organic garden and fruit trees and nature at our doorstep.
And do you know what?
If you really want to get out of the city and currently have equity in a Vancouver house it's likely that...
...you can do it too!
The bottom line is, if you own real estate in Vancouver, you could currently be in possession of a sort of treasure trove...one that can buy a lot more real estate in other parts of the province! OR....If you love city living, but want to buy a weekend retreat to "get away from it all" once in a while, it might not be completely out of your reach.
So without further ado, I'll show you some drool-worthy dream homes your Vancouver real estate dollar can buy in other parts of the province. But first, a hat tip to Vancouver blogger Melissa Carr of the Thirties Grind, for sparking this idea with her "Absurd Vancouver Property." Check out her blog to see Vancouver properties like this one: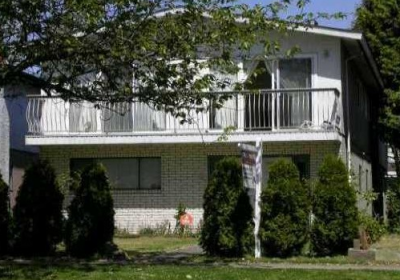 Photo of "Absurd Vancouver Property" from Melissa's January Post - Listed at $2, 250, 000
According to the latest statistics released by the Real Estate Board of Greater Vancouver, here are the housing prices for Greater Vancouver based on stats from January 2014:
Benchmark price for a single-family detached home $929, 700.
Benchmark price for attached properties $457, 700.
Benchmark price for apartment properties $371, 500.
Now that you have an idea of what real estate costs in Vancouver, I'll show you what kind of amazing digs you can purchase around the province for similar prices:
1. Nice West Side Detached Home on City Lot
-----OR-----
Grand Oceanfront Residence on 8.7 Acres on
Hornby Island
(featured in Architectural Digest, Western Living, and City & Country Home).
So let's start off with a bang! If you own an average single-family detached home on the West Side of Vancouver (which is West Of Ontario Street all the way to UBC), the benchmark price is a whopping $2, 144, 200.
Let's say you own a decent home on the West Side, something a bit above average. If you look at the current inventory there are approximately 538 listings on the West Side over $2, 500, 000. Homes around this price point are mostly either newer single family dwellings (SFDs) on a standard city lot or older bungalows that have been updated.
On Hornby Island, for approximately the same price, you can get this waterfront spread: a 3700 square foot, stunning architectural masterpiece that has been featured in several magazines and is located on 8.7 acres of private property bordered by over 250 acres of pristine undeveloped rainforest. It overlooks the white sands of Tribune Bay (arguably one of the nicest beaches in BC) and is zoned for a second home, which could be situated mid-bank directly on the bay.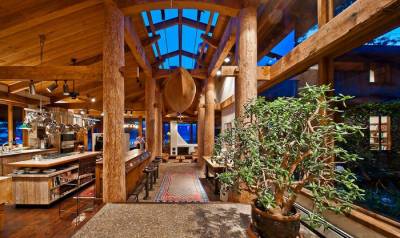 Stunning post and beam oceanfront residence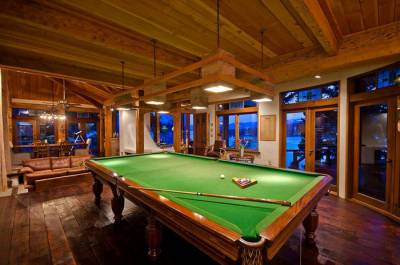 Pool anyone (or is this biilliards)?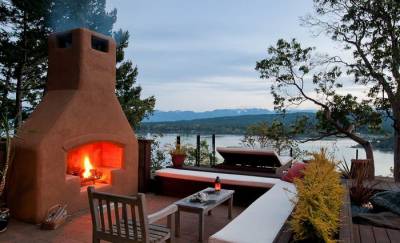 Private oceanside outdoor fireplace and entertainment.
2. West Side Bungalow
----OR------
"The Moorecraft" Ocean View Private Estate on 3.1 Acres near Nanaimo
Or how about this one to impress your friends? At $1, 675, 000, priced almost half a million dollars below the benchmark price of a west side single-family detached home, you could trade up for this spread and have some cash in pocket (or a lower mortgage). Here's what you get for substantially less than your west side bungalow: a 3.1 acre gated ocean view estate including a Georgie Award winning luxury home with..."beamed and vaulted great room with dining area, large wood framed windows, floor to ceiling stone surround gas fireplace, bamboo flooring & wine cellar. An open kitchen boasts copious solid wood cabinetry, granite, eating island & butler's pantry." Basically, you get all the bells & whistles, plus a three-car garage and guest quarters.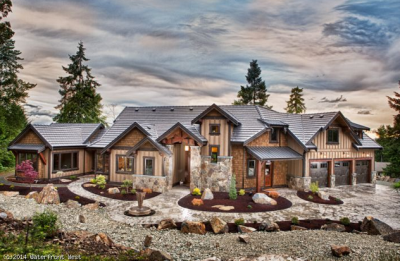 Ocean View Estate (less than your average West Side SFD)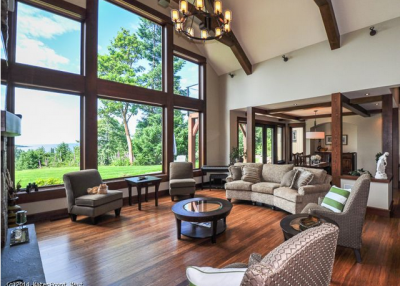 Vaulted Ceilings, wood floors...basically all the bells & whistles.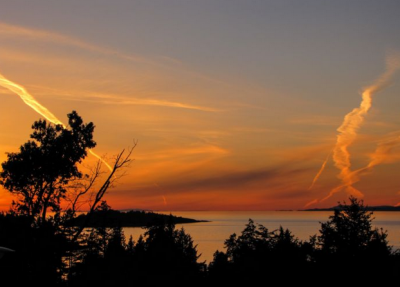 Not a bad view at the end of the day either.
3. Average Single Family Detached Home
----OR------
Lakefront Custom Built Home on Vancouver Island
If those haven't tempted you, how about this lakefront south-facing custom built beauty featuring gym, private dock, media room, games room and infrared sauna on Lake Cowichan, Vancouver Island? For just slightly more than your average Greater Vancouver home, you could have it! (Price $999, 000)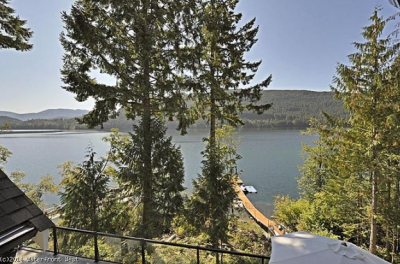 Ahhhh the tranquility!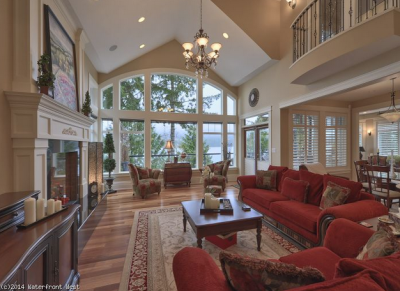 A living room fit for a King (or Queen).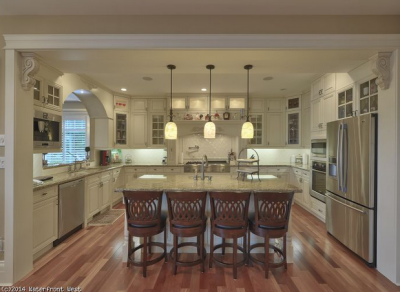 A "WOW" factor kitchen.
4. East Vancouver Townhouse
-----OR-----
Close to 3000 Sq Ft, 3-Bed, 2 Bath Ocean View Home in Craig Bay, Parksville ($489, 900)
For less than the price of a benchmark townhouse on the East side (which is $518, 100) , you can get an almost 3000 sq ft ocean view home with main level living and a walk-out lower level that provides ample room for a B/I office, media area, bar, gym, guest room with cheater ensuite & storage. The community also features a Beach Clubhouse including outdoor swimming pool, hot tub, tennis courts, indoor gym, social areas, library, pottery, woodworking, yoga & fitness classes, etc.... You won't get that in your average east side townhouse!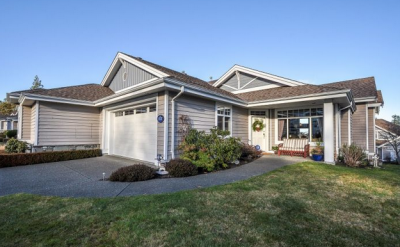 Nice 3 bed, 2 bath home with land included...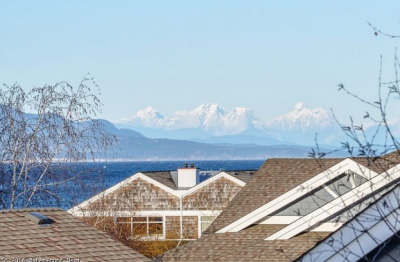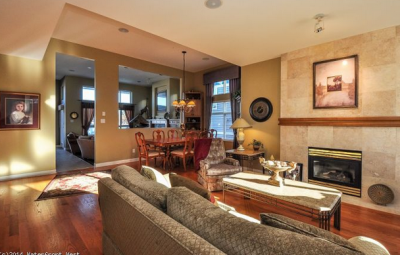 5. Vancouver Apartment
----OR-----
Okanagan Cottage in Gated Lakeside Community
At this Okanagan development, you can purchase a detached cottage starting in the low 300s. That's cheaper than the benchmark price for an apartment in Greater Vancouver. The project has 1,800' of waterfront, a sandy beach, two swimming pools, a 7,000 sq. ft. clubhouse, 20 acres of green-space for all to enjoy, boat slips, walking trails, and many other amenities. Not too shabby if you ask me!
1800 Feet of Lakefront with Sandy Beach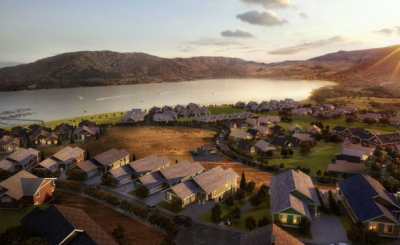 20 Acres of Green-Space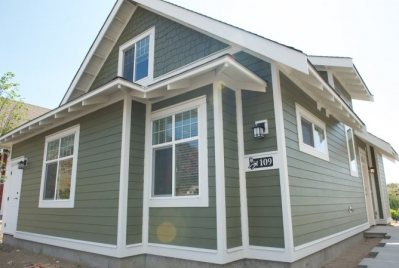 One of the Cottages

I hope you enjoyed seeing the difference in prices between Vancouver real estate and smaller communities in B.C.. To give you a few extra properties to gander at for comparison, I've included some Hot Properties here. These are properties hand-selected by our member agents as being good value in today's market.
1. Oceanfront Home on Pender Island $475, 000
This home, just reduced from $529, 000 to $475,000 can be yours for just slightly more than the benchmark townhouse on the East Side ($518, 100). Private setting, south exposure and fruit tress to enjoy while you sip your coffee gazing out at the ocean.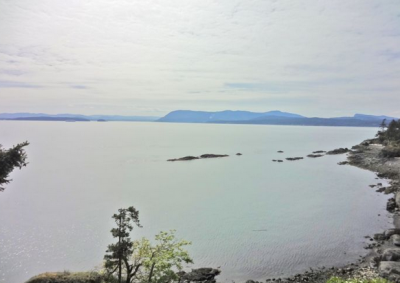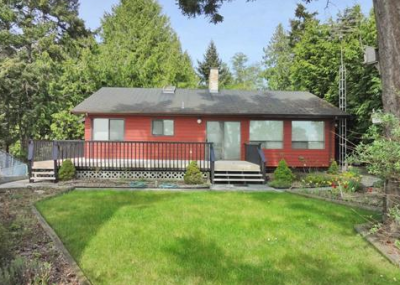 2. 15.12 Acre Riverfront, Haida Gwaii (Queen Charlotte Islands) - $141,750
Looking for some recreational property at a bargain price? This lot is the equivalent to approximately 120 Vancouver city lots, including over 356 ft. of river frontage on the Sangan River. This fisherman's hideaway provides a combination of privacy, serenity, and adventure unique to BC. The rear 3.3 acres of this property reach the northern border of the Naikoon Provincial Park where the lush rainforest overflows into your own private backyard; a little larger than your average Vancouver one! 15 minutes from Masset and seconds away from the beach.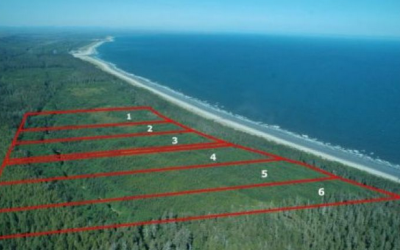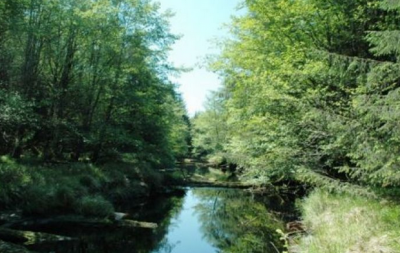 3. Lakeside Lots on Sproat Lake Starting at $109, 900
Maybe you want a nice getaway spot or a lakeside lot for your year-round home? Take a look at these lakeside lots on Sproat Lake, Vancouver Island? You can build up to a 1500 sq ft home here. Really inexpensive for a lot these days, let alone lakeside! Seller is motivated to get these lots sold!
We feature our Hot Properties every quarter on this blog, to get this blog to your inbox, please sign-up to the right!