When you think of Hornby Island, British Columbia, images of white sand beaches, clear blue warm waters, summer sunsets and artsy studios might flash across your mind. At least that's what comes to my mind when I think back to our last vacation there several years ago.
We rented a fantastic waterfront cabin with three separate funky caravan type rooms and an expansive ocean view deck. From this amazing spot at Phipps Point, we enjoyed Hornby on a quiet weekend in May. It was the perfect weekend escape: The weather was just warm enough to suntan on the local beaches and enjoy a soak in the outdoor bathtub; but the summer crowds had yet to arrive. We got a really good sense of how Hornby feels in the off-season, when the locals get this little paradise all to themselves.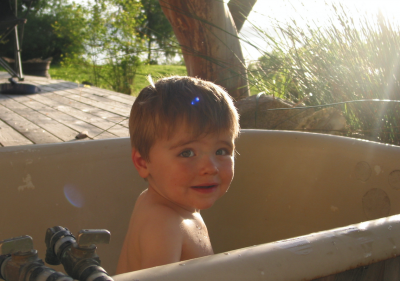 Our little guy enjoying the outdoor bath at our Hornby Island vacation rental.
Like us, many people flock to Hornby Island in the summer. With its relaxed and funky vibe, tropical feeling beaches, and unusually warm swimming waters, Hornby Island has become a go-to summer destination for many a weary city dweller: So much so, that the population of the island, which is around 1000 people in the off-season, swells to as many as 5000 in the summer. The arrival of summer beach-goers makes accommodations scarce and creates the buzz of energy that many local businesses owners depend on to enable them to live in this utopia year-round.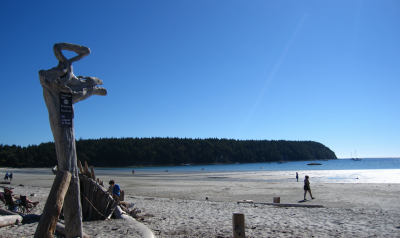 Popular Tribune Bay in Summer- Almost feels like Hawaii!
For long-time Hornby residents Donna Tuele and her husband Ron, moving to Hornby in 1999 was a conscious lifestyle choice. Before their move, Donna and Ron lived on remote Morseby Island in the Queen Charlottes. Having worked for B.C. ferries for several years, Ron was offered the opportunity of moving and with two small children about to start school, the couple jumped at the chance to be closer to family.
Donna and Ron loved the close-knit community on Moresby, so they made a specific choice to settle down in a similar type of community. Their main criteria for a new place to live were as follows:
Natural beauty & opportunity for outdoor activities.
Geographically defined, close-knit community.
Great elementary school.
With outstanding parks, ocean & mountain vistas, majestic cliffs and white sand beaches, Hornby surpassed their criteria for natural beauty. The geography of the island also created a close-knit community and a plethora of outdoor activities to enjoy. If they moved to Hornby, the family would be able to partake in year-round mountain biking at Mount Geoffrey, winter skiing at nearby Mount Washington and almost any type of water activity you can name (except maybe surfing) in the summer. Other activities (including swimming, circus and soccer) were and are still available through organized groups on the island or in nearby Courtenay/Comox. Finally, the community elementary school came highly recommended and the 4-day school week would give them long weekends to enjoy together. After researching several available options, Hornby stood out as the #1 choice for Donna and Ron to raise their family, so they took the plunge and relocated to the island.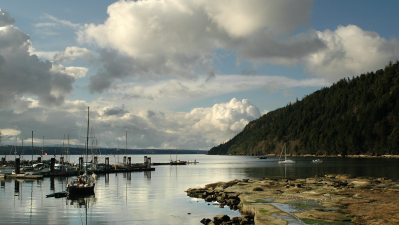 A quiet day at Ford's Cove Marina.

Today, Donna is the local area real estate expert and our Hornby waterfront property expert. I recently spoke to Donna about the real estate market on Hornby and what it's like to live there year-round and here are her insights.
Donna Tuele, Resident Hornby Island Realtor
What is the average price of a typical single family dwelling, lot or waterfront property on Hornby?
The non-waterfront single family home price in 2015 was $339, 504 and 1/2 acre lots averaged $149, 500. Lots larger than 2 acres averaged $354, 125.
For waterfront properties, single family homes averaged $824, 000 and the average price for waterfront lots was $671, 800.
Can you tell us a bit about demographics? What is the typical profile of someone who lives on Hornby year-round and where are buyers from?
The last census said (2011) said the average age was in the low 60's. We have a real variety of great people here: retired CEOs, engineers and even puppeteers. It feels like we have a resurgence of young adults moving to the island and our preschool is bursting at the seams. The community school is underpopulated, but still provides an amazing place for our kids.
Buyers currently are coming from Vancouver Island and the Lower Mainland. Previously we had large influx of Albertan's and previous to that when the US dollar was strong we had many US buyers, who are starting to pop up again now.
What type of jobs are available for people who live on Hornby year-round?
Many professionals who move here start their own businesses (ie. counselling, accounting, etc...). The B.C. Ferries and the Co-Op Grocery also provide local jobs. Construction is also going strong on the island, with new builds and or renovations. In addition, we have a vibrant community of artists and musicians who live here year-round.
What are the popular waterfront neighbourhoods and beaches on Hornby?
Popular waterfront areas are Whaling Station & Tribune (boating, swimming, sunbathing, beach activities for all ages). In the summer, you can see in excess of 50 boats anchored in Tribune - it looks like a city at night. Sandpiper is great for swimming, kayaking, yoga & pilates & Grassy Point has amazing sunsets - although there are many other great beaches. Big Tribune is a park, while Little Trib is the clothing optional beach. A real treasure is swimming in the bioluminescence after a few weeks of sunshine.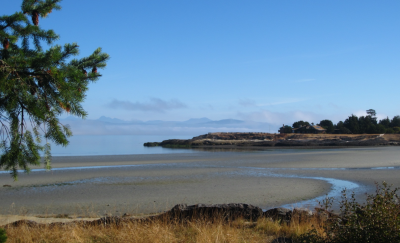 In the off-season, locals have places like Whaling Station Beach all to themselves.
We know you have a great community elementary school there, where do kids go after that?
Public school goes to grade 7. Kids are then bussed to the Comox Valley (Vanier). The trip is two hours each way and kids often get a real sense of camaraderie by travelling together each day.
What about medical & dental facilities?
Hornby has a great clinic with two full time doctors. The clinic was built 100% by donations and volunteers about 5 years ago. For emergencies, there is a team of first responders on the island and patients can be taken via ambulance or airlifted to St. Josephs's Hospital in Comox. There is also a new firehall currently being built. We have a mobile dental bus with the dentist residing on Hornby. He covers both Denman and Hornby.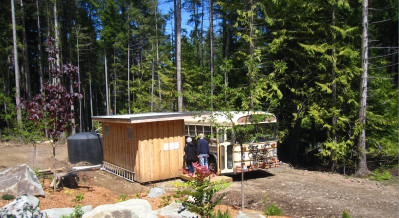 The Hornby & Denman Island Dental Bus.
Is there any public transport on the island? How much are the ferries to Vancouver Island?
Although there is no public transport, it's easy to ride share or hitch hike on the island. Most of the locals love giving rides and meeting people or spending time with community members. For the ferries, the best way to save money is with an experience card. These pre-loaded cards give you 38% off of all Gulf Islands BC Ferries sailings, making the return cost for a car and driver to the island around $45 CAD (Winter 2016).
What kind of cultural and sporting activities are available on Hornby?
Hornby has a great musical and artistic community that is very sharing. We have a Blues festival in May, World Music Festival in August, Jazz every Friday night at the Thatch, Celtic Music festival every second year. Everyone loves music at the bakery weekly in the summer - especially the local Marimba Band.
Hornby is extremely popular for its mountain biking trails on Mount Geoffrey all year round. In the summer we offer a variety of activities from sailing, biking, circus, swimming, soccer... The Hornby Island Outdoor Education Centre has great facilities that students from all over come and use. In winter, locals enjoy all the natural beauty of Hornby without the crowds - they have the beaches to themselves and enjoy a real sense of community and connectedness you can't find in larger centres.
What is your best local/insider tip about Hornby?
Hornby has amazing trails, whether you are a biker, hiker, runner or horseback rider (that's me). We have warm swimming beaches in the summer and beautiful deserted beaches the rest of the year. Helliwell Provincial Park hike is awesome and was at one time on CBS's top 10 in Canada.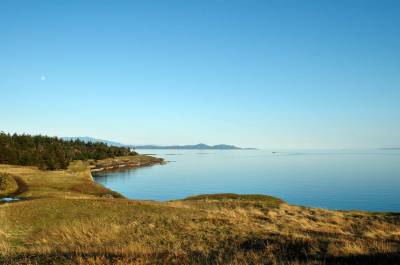 The cliffs at Helliwell Provincial Park - Great trails for hiking and biking.
When asked her favourite thing about living on Hornby, without hesitation Donna says that besides the obvious natural beauty, "the people are amazing treasures." She loves the comfort of knowing everyone on the island and enjoys the inclusive, helpful and friendly attitude of her fellow islanders.
Sixteen years after moving to Hornby, Donna and Ron's children are all grown up. One of their daughters continues to live on Hornby with her young family, while the other one lives in nearby Fanny Bay. The couple are still happily ensconced on the island, celebrating 40 years of marriage this year. Congrats you two!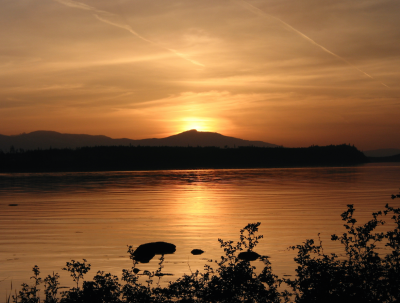 Hornby Island sunset from our rental cabin at Phipps Point.
I'll finish off this post with a glimpse into our fabulous weekend on Hornby. The photo above is a snapshot of one of our evenings at the cabin. Shortly after this was taken, we watched last rays of the sun set slowly over the ocean and as we sat on the beach taking it all in, we heard the sound of orca whales breaching offshore. Seriously, can life get any better?
If you have any more questions about Hornby Island Real Estate or waterfront properties for sale on the island, please feel free to contact Donna with any questions.