Imagine a life "living on the edge" of nature, with boundless outdoor adventure opportunities and the ability to carve out your own self-directed future, free from the constraints and congestion of city life.
That is what Marilyn McEwen and Lance Blackwell envisioned when they decided to move to Ucluelet from Vancouver 18 years ago.
When they arrived, things were not exactly as they had imagined.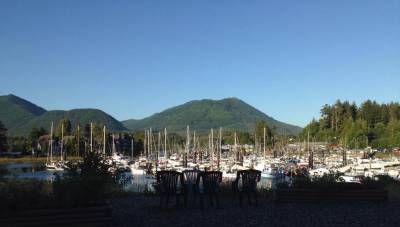 Ucluelet Harbour on a Sunny Day.
Back then, the small village, located on the "Wild West Coast" of Vancouver Island and a 1 1/2 hour drive down a long and winding road from the nearest large centre (Port Alberni on Vancouver Island), was known primarily for fishing.
Upon arrival, Marilyn and Lance realized that theirs was the first home sale in the area in 18 months.
To make matters worse, the logging and fishing industries, which had supported the community for many years, were both in decline.
With the exception of the nascent tourism industry in neighbouring Tofino, the future looked uncertain.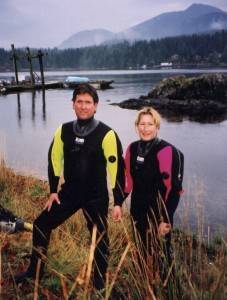 Marilyn & Lance in their Scuba Diving Gear.
Marilyn and Lance moved to the area for the lifestyle. At the time, the contrast with big city life took a bit of getting used to, but the trade off of living amid captivating beaches, spectacular old growth forests and the commune with nature was well worth it. With the goal of "working to live", rather than "living to work", they initially secured tourism jobs in Tofino, then quickly started businesses of their own in Ucluelet, and quite frankly, they never looked back.
Eighteen years later, the "Wild West Coast" area is a booming and well-established mecca for tourism, hosting up to 1 million visitors a year; most of whom visit during the high season of June to September. During these summer months, many of the long white sand beaches between Tofino & Ucluelet are dotted with families happily frolicking on the shores, while surfers test their abilities out on the waves.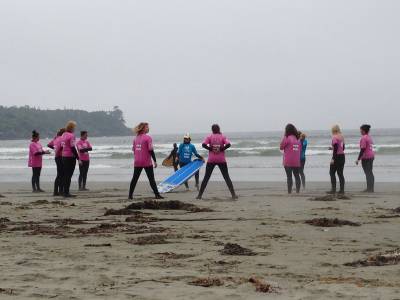 Surfers test the waves at Long Beach, even in inclement weather!
In the off-season, the area attracts some intrepid foreigners, as well as a healthy dose of British Columbians looking to escape the city for a quick getaway. Winter visitors like to cosy up by a fire or walk the beaches in rain slickers, while watching storms brew over the Pacific Ocean. In March, the hordes start to return again for the Pacific Rim Whale Festival.
When tourism first took off In Tofino, Ucluelet was seen as the alternate place to stay; a lesser known secret where locals or savvy tourists could retreat from the crowds. In recent years, however, it has become a sought-after destination itself. Development took off with the real estate boom of the early 2000s and the establishment of new neighbourhoods and resorts, including the stunning, contemporary Black Rock Resort (2009), situated on a rocky promontory with magnificent views looking out to the Pacific Ocean.
Next, the fantastic Wild Pacific Trail finally broke ground. The longtime vision and continuing creation of local oyster fisherman "Oyster Jim," the Wild Pacific Trail is carved out of the rugged shoreline and winds gently along the coast amongst towering firs and cedars, with views of crashing waves, endless ocean and abundant wildlife. Voted TripAdvisor's #2 attraction in British Columbia, the trail is a must see when in the area and definitely bucket list worthy. I have personally hiked the trail twice and will be returning time and time again for the spectacular vistas. Lance, now a well-known producer, director and editor of television and video for the area, and the owner of Long Beach TV, created the video below, to showcase the trail and its natural beauty.
Marilyn, who is now also deeply rooted in the community, grew her business called Aperture Overtures Photography to the point where she shot 100 weddings per year (mainly on the beautiful area beaches) and now keeps busy running the couples' oceanfront resort. As if that is not enough, she is also a newly elected member of the Ucluelet council. She says that she has definitely seen an upswing in recent years, noting that there are very few vacant buildings in the municipality, real estate has gone up substantially, and that rental units for the work force that arrives for the summer is very hard to come by: so much so that all newly built resorts are now required to provide rental units for their staff.
In contrast to what it was like when Marilyn and Lance arrived, Marilyn describes the Ucluelet of today as a lively and hip close-knit community of entrepreneurs and young families. In an area where the average age is 34, she says it is now common to see young mothers stroll along with kids in tow and mentions new small businesses popping up around town. Like Marilyn and Lance, many of these families have chosen to settle in Ucluelet for the lifestyle and the majestic beauty of the area. While many of the small businesses are focused on outdoor pursuits such as surfing and kayaking, Marilyn says that new retailers are also springing up to serve the tourists and the surge of families: coffee shops, clothing stores and more.
This spectacular semi-oceanfront home, currently listed by our member waterfront expert Dave Koszegi of The Dave Team, is a prime example of the upscale nature of much of the recent development in Ucluelet.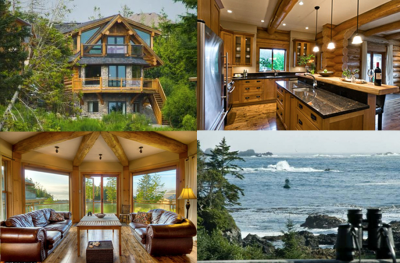 Listed at $947, 500 the west coast style log home features high-end finishing and outstanding workmanship.
When asked about any down sides of Ucluelet, Marilyn has little to say. She mentions that crime is not much of an issue, except sometimes during the summer, when you have to keep more of an eye on your gear (bikes, surfboards, etc..) and be a little more wary. She attributes this mainly to the large influx of transient people in the high season. A solution for her only other issue, lack of a good indoor recreation facility, is already in the works. The Multi-Plex Society has a designated building lot out by the airport (between Tofino and Ucluelet). Phase one, an indoor ice rink, is slated to start next year and phase two will be an indoor pool.
As for Marilyn and Lance, they are happy with their life in Ucluelet. They have carefully crafted their own successful careers, and just like when they arrived, they continue to be inspired by the raw beauty and splendour of nature that surrounds their home. Today, one of their favourite things to do is take a long walks on the beach with their dogs. "We planned it this way," says Lance.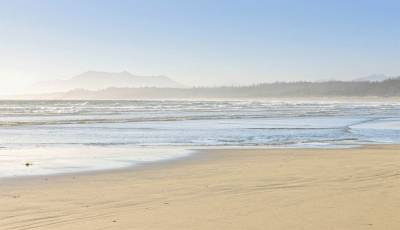 A beach day on the Wild West Coast.
Want to know more about Ucluelet ("Ukee")?
Check out our fast facts in the guide below.
Your Guide to "Living on the Edge" In Ucluelet:
Fast Facts & Information for 2015-2016
2015 REAL ESTATE STATISTICS
The following real estate statistics are provided courtesy of the waterfront real estate experts at The Dave Team.
SFD = Single Family Dwelling
SFD 2015
Jan 1, 2015 - Dec 5, 2015: Average sale price $264,500.
(This does not include ocean view, or waterfront sales or 3 sales of B & B properties as this would skew the results.)
OCEAN VIEW SFD -AVERAGE SALE PRICE
According to MLS stats, the average price for an ocean view home sold this year was $272,500.
OCEANFRONT SFD - SOLD 2015
$790,000
MOST EXPENSIVE SFD CURRENTLY LISTED
460 Marine Drive for $2,298,000.
HIGHEST SFD SALE PRICE (recent years)
Highest sale price was in 2007 for an oceanfront home which sold for $1,675,000.
MEANING AND PROPER SPELLING OF "UCLUELET"
Commonly misspelled, the word Ucluelet (pronounced you-KLEW-let) is a local First Nations word meaning "safe harbor". Ucluelet's tagline is "Living on the Edge" which refers to its location on the edge of the Wild Pacific Ocean & Barkley Sound.
LOCATION & POPULATION
Ucluelet in relation to Vancouver, Victoria & Tofino, Courtesy Google Maps.
Ucluelet is a district municipality with a population of about 1,627 on the Ucluelet Peninsula, on the west coast of Vancouver Island in British Columbia, Canada.
Located on the western edge of Barkley Sound, the closest city is Port Alberni approximately 100 km to the east. The District of Tofino is 40 km northwest of Ucluelet on Highway 4. Barkley Sound lies southeast of Ucluelet and is a marine area that features the Broken Islands Group unit of the Pacific Rim National Park Reserve. The fishing and scientific research community of Bamfield lies on its farther shore.
In between Tofino and Ucluelet is Long Beach, arguably the most famous beach on Vancouver Island's West Coast. There are several other fantastic beaches nearby with breathtaking, unforgettable vistas. Many of these beaches also have access to the renowned Wild Pacific Trail.
ACTIVITIES
Known as a true working harbour, Ucluelet provides the ultimate West Coast experience, with its rugged coastline and abundance of outdoor activities like fishing, surfing, whale watching, kayaking, camping, hiking, storm watching, biking, swimming, and beachcombing. Storm watching has become a major West Coast attraction during the winter months – the perfect opportunity to snuggle up on the couch with a glass of BC wine in hand! Many accommodations offer unique 'Storm watching' packages for tourists.
CUISINE
The West Coast cuisine in Ucluelet is incredible! Try the Floathouse on the Inner Harbor, where you can watch the boats, sea lions, and other marine wildlife as you dine. Those with refined tastes will delight in the artisanal fare offered by Fetch Restaurant in Black Rock Oceanfront Resort.
ACCOMMODATIONS
You can check out a great assortment of waterfront resorts in the area on our sister site, Simply Beachfront. Remember to sign-up for our free Beach Club to get special offers and exclusive deals you see advertised on the site.
For a list of waterfront accommodations Ucluelet, please click here.
For oceanfront accommodations in Tofino, please click here.
SCHOOLS
There are two elementary schools in the area: Wickaninnish Community School in Tofino and Ucluelet Elementary School in Ucluelet. There is one high school in the area, Ucluelet Secondary School. Tofino students are bussed there on weekdays (about a 30 minute drive).
HOSPITAL & ELDER-CARE
There is a small hospital located in Tofino which serves the area. Local doctors must live within 5 minutes of the hospital for emergency purposes. According to the VIHA website, the hospital offers the following:
Open 24 hours a day, 7 days a week
10 acute medical inpatient beds
5 Emergency Room stretchers
Physician is on-call to the site
TGH offers emergency obstetrics only (expectant mothers go to larger island hospitals for births).
Outpatient Ambulatory Care
Emergency Department
There is a clinic located in Ucluelet that is open 4 days a week for alternative care.
West Coast General Hospital is a larger facility located in Port Alberni (about a 1 1/2hr drive inland).
For seniors, VIHA also operates an assisted living centre called Forest Glen in Ucluelet.
TRANSPORTATION
A small airport, Tofino Ucluelet Airport, is located between Ucluelet & Tofino. There is also the ability to land floatplanes in Ucluelet Harbour.
Travelling by car, you can access it via Highway 4 from Port Alberni. This is a very windy road and winter tires or chains are required Oct-May.
Bus service is provided by Tofino Bus from larger centres on Vancouver Island.
Do you live in Ucluelet or have anything else to add about the area?
Please feel free to post additional information in the comments.