Many British Columbian (and Albertan) city dwellers dream of purchasing a waterfront getaway on Vancouver Island: a place where they can get out of the concrete jungle and relax on weekends, a place to make special family memories, or even a place to move into permanently when they retire.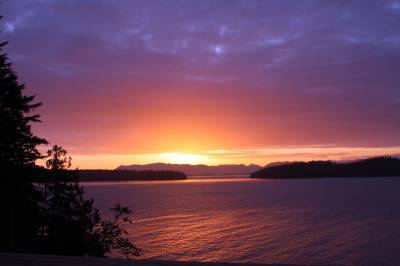 Bamfield Sunset
With the equity of a Vancouver, Victoria or Calgary home, it's increasingly possible for this dream to become a reality, but where can you get the most bang for your Vancouver Island real estate buck?
Well, if you are looking for an inexpensive getaway, one of the areas you might want to focus on is the Alberni Valley. For under $500, 000, there are some great waterfront prices to be found up the Alberni Inlet and you may even be able to snap up some fabulous Sproat Lake waterfront if you prefer lakefront living.
Located south of the mid-island mark, just a one-hour drive from Nanaimo and two hours from Victoria, the Alberni Valley has some pretty inexpensive real estate when compared with some other major centres on the island (and not just for waterfront property).
British Columbia Average Home Prices: May 2014
City of Vancouver Over $1,200,000
City of Victoria $565,763
Nanaimo $370, 123
Comox Valley $369, 330
Campbell River $309,389
City of Port Alberni $174, 861
Of course, if you go further north, to places such as Port Hardy, Port MacNeil and Gold River, you can definitely find some great waterfront real estate prices, but if you prefer being close to the perks of big city living, the valley boasts a location closer to the facilities available in large centres such as Nanaimo. Moreover, the valley offers all three types of waterfront real estate: oceanfront, lakefront and riverfront and for some pretty great prices.
In our recent Google Hangout on Air, I discussed Alberni Valley waterfront real estate with Realtor and area expert Chris Fenton of the Fenton Team. Chris and I discussed the different types of waterfront, average prices and current market conditions in the valley. You can view the video below; however, I have extracted the main points as well so that you can have a quick read through if you prefer.
Video Summary: Waterfront Areas in the Alberni Valley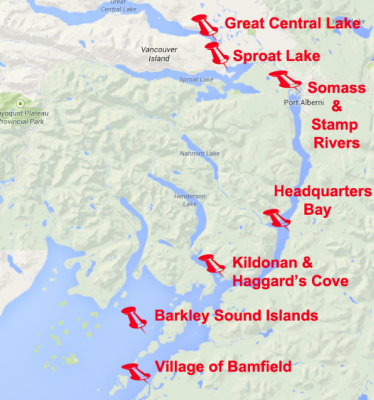 Map of Alberni Valley Waterfront Areas
1. Alberni Valley Lakefront
Sproat Lake
Sproat is a large warm water lake with over 300 kilometers of lake frontage, less than half of which is developed. A plethora of recreational opportunities are available on the lake including fishing, boating, paddle boarding, canoeing and of course, swimming in the summer. The lake is also home to several provincial parks. Although single family home prices generally average in the $800, 000 range, boat access lakefront can sometimes be found in the $300, 000 - $400, 000 range. Prices also go the other way; with large estate style homes in the million-dollar plus range. Also, I have noticed that there are sometimes prime lakefront lots for sale in the $300, 000 plus range if you prefer to build.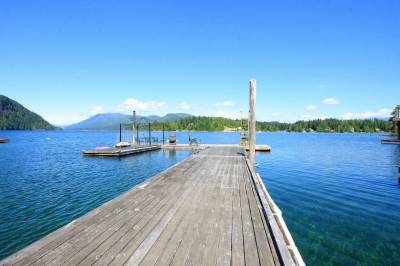 Sproat Lake, Alberni Valley
Lakefront Single Family Home Avg. 2013 = $800, 000
Great Central Lake
Another large lake in the area, this lake is just in its infancy of being developed according to Chris. The lake is currently home to an RV Resort and around 50 or so houseboats. The majority of the lake is inaccessible by car and access is by boat or float plane only.
2. Alberni Valley Riverfront
Somass and Stamp Rivers
The Somass River heads in from the Alberni Inlet, which is the inlet that Port Alberni is built on. The Stamp River is a fast-moving river with numerous waterfalls and home to the Stamp River Provincial Park. According to Chris, riverfront properties rarely come available and therefore they are highly sought-after. When they do come up for sale, they usually average around $500, 000; however, the average price for 2013 was only $292, 000 for a single property that was in poor condition.
3. Alberni Valley Oceanfront
The Alberni Inlet: An Outdoor Enthusiast's Haven
The Alberni Inlet stretches from the town of Port Alberni out to the West Coast of Vancouver Island. Along this inlet, much of which remains forested and untouched by human development, one can find some relatively inexpensive oceanfront cabins and cottages. The area is the perfect place for the wilderness aficionado, with plenty of recreational opportunities and a feeling of being really out in nature. Some of the main communities on the inlet are reached via a maintained gravel road, which is best travelled by truck or 4x4 according to Chris (but is routinely travelled by cars as well), and others are accessed by boat or float plane only. At the end of the inlet lies the picturesque community of Bamfield and the terminus of the world-famous West Coast trail.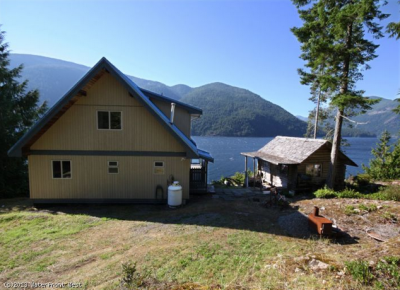 Headquarter's Bay Property for Sale $389, 900
Headquarters' Bay and Haggard('s) Cove
Headquarter's Bay is an oceanfront community about a 30 minute drive from Port Alberni. Featuring 41 large lots, this gated community has a year-round caretaker, a boat launch, marina, BBQ shelter and more. The average sale price for an oceanfront house in Headquarter's Bay is around $300, 000 and Chris says that typically includes a whopping 5 acres and 150 ft of oceanfront. Part of the reason for the great price is that it's not a land purchase, but rather a share purchase. A company owns the entire development and people buy shares and get exclusive use of their designated property. Headquarter's Bay also has small monthly fee and which includes a tax on the improvements on the land. Also of note is that the community is powered with propane generators, as there is no electricity.
Haggard('s) Cove is a similar set up to Headquarter's Bay with a strata ownership structure, marina, and propane generated power; however, this area is accessed by boat, float plane or ferry service from the Valley (so not via the gravel road in this case) and consists of 61 strata titled, city size lots. Single family homes here run around $250, 000 - $400, 000. Boat service is daily in the summer from Port Alberni and 3 times a week in the winter. Haggard's Cove monthly strata fees are around $45/month.
Haggard's Cove would make a perfect getaway spot for the true outdoorsman, while Headquarter's Bay is an excellent choice for the nature lover or family that doesn't want to break the bank with their recreational property purchase but have a lot of land at their disposal (5 acres/lot).
Kildonan
Kildonan is a very small community. It is also a boat/float plane access only community as it is located on the north side of the Alberni Inlet. Rather than being part of a strata, the properties for sale in Kildonan are purchased fee simple.
Bamfield
An hour and a half drive (or boat ride) from Port Alberni you will find Bamfield, with its world famous hiking, kayaking, salmon fishing and lots of diving. Bamfield had several different waterfront areas and the properties are not sold on a strata system but are fee simple. Chris says that the average oceanfront price single family home in Bamfield is usually around $500. 000; however, the average oceanfront single-family home sale price for 2013 was only $410, 000, so maybe it's a good time to be out there looking!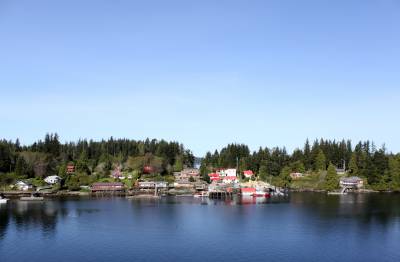 Bamfield, Vancouver Island: Average Oceanfront Single-Family Price in 2013 was $410, 000
4. Current Market Conditions
Buying activity in the Alberni Valley picked up midway through last year, but according to Chris, it's still a great buyer's market. Chris says recreational buyers who are looking at lakefront generally come from other areas on Vancouver Island or Vancouver, while saltwater buyers are generally from Alberta. He also mentioned that activity from US buyers is also picking up again, particularly in Bamfield as it is so well known internationally.
5. Value Properties
Finally, here are a few well-valued properties Chris has for sale: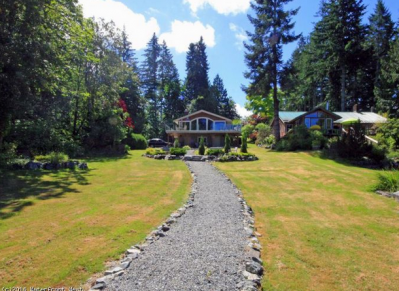 Extensively Remodelled Pristine Sproat Lake Home with Dock and Walk-on Lakefront Living $799, 000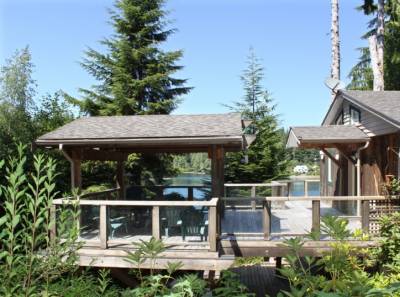 Modern West-Coast Bamfield Oceanfront Home with Private Dock $625, 000
I hope we have given you a good overview of the different waterfront real estate opportunities in the Alberni Valley, one of the most affordable communities on the Island! Thanks to Chris Fenton for the interview and all of the detailed information.
For more information about the area, you can check out Chris' websites here:

Note to Comply with Canada's New Anti-Spam Law
Some of you are receiving this email because at some point in the past, you have signed up to receive our blog updates automatically via email.
Please let us know if the e-mail address that you are receiving this message at is correct or if you would like it updated (please send email to: This email address is being protected from spambots. You need JavaScript enabled to view it.).
If you do not want us to continue sending updates on the BC Waterfront Blog posts, please unsubscribe using the link that comes along with the email update. It will be located at the bottom of the email.
If we do not receive a response on either of the requests above, we will assume that you consent to receive e-mails at this address.
Thank you for your time and have a great week!