Before my husband and I started shopping around for our first home, I read A LOT of real estate investment books. I knew, therefore, that the most important thing to do as a serious first-time buyer was to get pre-approved for a mortgage.
...Of course, I figured that there was NO WAY that we would be approved for enough money to buy a single family home in Vancouver on our measly salaries; however, I thought, if we got pre-approved, at least we would know what we could afford to buy. Perhaps we could possibly qualify for enough money to buy a Vancouver condo or maybe an investment home in a smaller B.C. town, which we could move into at a later date?
If we had decided to work directly with the bank at the time, we would have had to make an appointment with our banker, wrangle the piles of paperwork necessary for a mortgage application into some orderly fashion and then negotiate a discounted rate with them. If our bank had then offered us a rate that was higher than what I had seen advertised elsewhere, we would have had to go to another bank and repeat the same process. We would have had to repeat the process yet again at the next bank if we still weren't happy.
I didn't relish the idea of hopping around from bank to bank, reapplying for mortgages at each one and spending my afternoons in bank meetings, so this is where a mortgage broker came in. We called up a mortgage broker who had been referred to us by a friend and got started. We met with him and went through the application process once, he checked our credit once (if we went to three different banks, our credit scores would have been checked 3 different times) and then he shopped for a mortgage for us.
Next, he called us with the good news: we had been approved for a whopping $250, 000 at a low interest rate. While it doesn't seem like much these days in the Vancouver market, this was much more than the $150, 000 I had imagined in my wildest dreams! Shockingly, it was enough to buy us a single family home in the trendy Main Street corridor of Vancouver. Best of all, this amazing service was provided at no cost to us.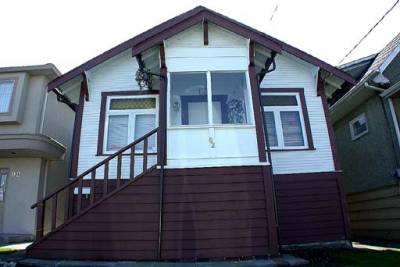 Our Vancouver House When We Bought it (i.e. before renos)
We were off to the races! After purchasing and fixing up our Vancouver home, we sold it and moved to Vancouver Island where we have since purchased more real estate. We have continued to use a mortgage broker for our property investments and will do so as far as I can see into the future.
When it comes to financing a second home, it is advantageous to be aware of all of the options out there and to have access to creative solutions, which you might not find at your bank. These solutions might be the difference between being able to buy your dream home or not, so when I decided to write a blog post about second home financing, I figured that the best person to ask about how the ins-and-outs of the process would be a mortgage broker.
I asked Kerry Reid, a licensed mortgage professional based in Sooke on Vancouver Island, a few questions about second home financing. Kerry has over ten years experience in the real estate industry and believes home ownership is one of the best investments someone can make, so she goes above and beyond to make it happen for others. Please find below Kerry's answers to my questions, as well as an example of how the team at her office helped some clients to purchase their dream home.
1. Many people who live in the city dream of owning a waterfront getaway retreat. If you are a city dweller in a large urban centre like Vancouver, Victoria, Calgary, etc... how complicated is it to get a mortgage on a vacation home? What does the process involve?
The process can be quite simple. If you already own a home, we have a variety of options for purchasing a second home. These include refinancing your current mortgage to access some of the equity in your existing home or adding a secured line of credit to use as a down payment for your new waterfront or dream retreat. If you do not currently own a home you may only need to give us a quick call to fill out an application and 5% for the down payment, which you could possibly borrow, and your vacation home could be yours before you know it!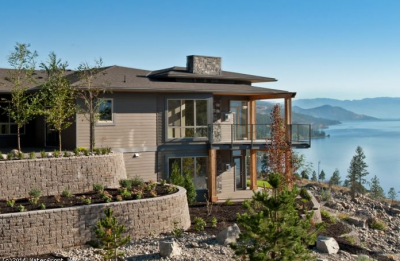 Dreaming of a Owning Vacation Home Outside the City? Lots at Lakestone on Okanagan Lake Start at $195, 000
2. What percent do I need to put down on my vacation or second home to qualify for a mortgage?
If you can qualify for the mortgage on your second home without needing additional income (i.e. rental income), the minimum down payment required is 5%. A higher amount may be requested, but that will be dependent on the specific application.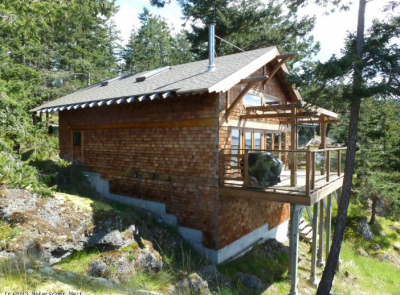 This Pender Island Oceanfront Cottage for $625, 000 Would Make the Perfect Vacation Spot
3. If I plan to make my second home into a rental property, could this make it easier to acquire a mortgage for it?
Absolutely! Keep in mind that if the rental income is required for mortgage qualification, a 20% down payment would be needed as it would be considered a rental property.
Note from Us: With condos/townhouses,etc...make sure rentals are allowed in the property. Also, check local government regulations for rental rules/zoning.
Family Getaway Spot: This Luxury Townhouse in a Resort-Like Setting on Shuswap Lake is only $395, 000
4. In your opinion, is there a specific type of mortgage that works best for these types of properties?
Mortgages are never a "one size fits all" kind of deal. There are many lenders that have different programs for buying vacation homes and it is important that each mortgage is specifically tailored to each client based on the clients' needs.
Under the program Lender A offers, for example, a client's application may not work, but under the program from Lender Z, it will. Furthermore, it is possible that Lender A may reject an application presented one way, but approve it presented another way, say when it is presented "in just the right way" by a Licensed Mortgage Professional.
As mortgage professionals, it is our job to know the details of all of the different mortgage options offered by different lenders as well as their lending requirements, so rather than being limited by what the bank can offer, we can shop around for you to find just the right fit.
Picture Yourself on the Deck of this Private 5-Acre Quadra Island Oceanfront Getaway Cottage $495, 000
Build Site for Future Home Too!
5. Can you give an example of a typical waterfront or vacation/second home buyer and how you organized the financing for their second home?
Yes. Our clients were approaching retirement and found a waterfront home they wanted to live in once they were retired. The problem was they weren't ready to retire, but they didn't want to pass up on this beautiful home. They were also concerned about the condition of the real estate market in their home town and didn't believe it was the right time to sell their existing home.
Our solution: don't sell right now.
We presented them with two great options to solve their dilemma:
OPTION 1: They could purchase the waterfront retirement home as a rental property and rent it out to assist with the new mortgage payments until they moved in.
If they chose this option, they would refinance their existing home to get the money for the down payment on the retirement home (20% of purchase price in this scenario). They would also extend the amortization on their existing home to keep their new payments more comfortable during the transition phase. The clients would also have had the flexibility to pay more every month if they felt comfortable.
The rental income from the retirement home would be used to help them qualify for its mortgage payment. We would connect them to a property manager to ensure they were able to promptly rent the home, have the peace of mind that it would be rented to trustworthy tenants and not have to worry about collecting rent or checking in on the property.
This option would allow them to purchase their dream home right away, but to keep working and wait for the market in their home town to turn around so they could sell their existing home at a more advantageous time.
OPTION 2: They could retire early, rent out their existing home and move into the dream home immediately!
If they chose this option, the rental income from their existing home would be used to offset the mortgage payment on it. Since the retirement home would be their primary residence in this scenario, they would only need 5% for the down payment (which they had in savings), so we would not need to refinance the mortgage on their existing home. If they chose this scenario, a property manager would be hired to manage their existing home so that they could move into the retirement home.
The clients ultimately chose the first option. They did not have to change their retirement plans or miss out on their dream retirement home.
For our clients, getting a mortgage on a vacation home is no more complicated than any other mortgage; there are a few extra steps but that's our job and the clients need not worry themselves with that. The process can be as simple as telling us their income and where the down payment is coming from.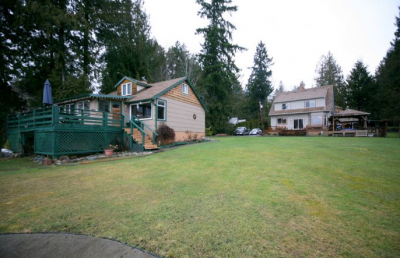 For $985, 000 You Can Retire on Vancouver Island and Invite the Whole Family to Your Own Lakefront Mini Resort
6. Are there any tips you can give to potential vacation home owners who are applying for a mortgage?
Yes! Talk to a mortgage broker! We have access to over 90 lenders so if it can be done, we can do it! Don't waste your time going from bank to bank when you can get a licensed professional to do that for you FOR FREE.
While it's great to be able to access information online about rates and what you can afford using the online mortgage calculators, you should not be basing your decisions solely on the internet (ever) or what you've heard from other people.
You know who has the answers?! Your mortgage broker! This is what we do! You would be surprised how many people come to us truly believing they "couldn't afford it" or would "never be approved" and we make it happen. It is never a waste of our time to give us a call, send us an email or stop in for a chat to see what we can do for you. You'll never know if it's possible if you don't ask!
If you'd like to contact Kerry, you can visit her website here or check out her blog by clicking here.
Hot Properties October 2014
Our staff and member agents have picked through the properties for sale on our site and given their 4 picks for "Hot Properties" this month. Read on for more:
Right in the heart of town, you can have it all - fabulous panoramic ocean and mountain views, walk on waterfront, guest cabin with B&B /rental potential, sunroom with hot tub propane fireplace,great gardens, easy to maintain, some unique features creating a warm, cozy place to call home.
Well-priced oceanfront home located right by the ferry. Enjoy sunsets from the waterfront patio.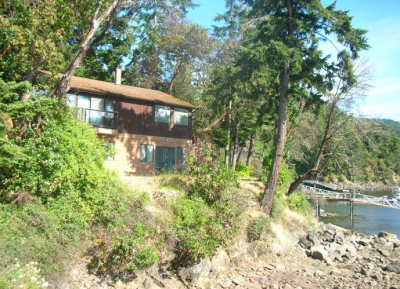 For sale by Court Order, this fine property is offered at assessed value and open to all reasonable offers. The unfinished structure comprises nearly 4000 sq. ft. of framing over 3 split levels. The land is private and sunny with easy access to the fascinating waters of Active Pass where BC Ferries and all manner of marine activity share space with orca whales, sea lions, seals and otters. Square footage calculation is approximate.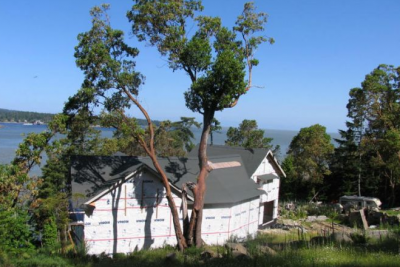 Rare combination of riverfront and oceanfront in Haida Gwaii (also known as the Queen Charlotte Islands). Located within Naikoon Provincial Park, just minutes from the town of Masset, this 3.9 acre property offers you panoramic water views of the gentle Sangan River and majestic Pacific Ocean. With over 1800 ft of Sangan riverfront, you'll be mere seconds away from some of the world's best fly fishing. Power, phone, and year-round paved access via Tow-Hill Road. Owning beachfront property in this region is a once in a lifetime opportunity. Don't miss out!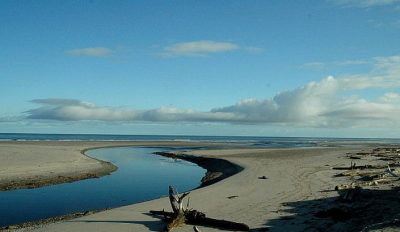 We hope you enjoyed purusing our "Hot Properties" picks! Stay tuned for more in January.