In my previous post about exploring the Gulf and San Juan Islands by boat, I covered my early days as a kid visiting San Juan and Henry Islands and taking in their rich history. What I didn't mention was the inspiration for that post and the property that got me thinking about all the good old days and the heritage of the islands around us.
As you can imagine, I see a plethora of beautiful waterfront homes managing Waterfront West, but from time to time, some of them really stand out to me. Although rarely available and few and far between, when they do come up on the site, I find myself drawn to the old homesteads, the magnificent Arts & Crafts heritage homes with roaming orchards and picturesque fields. These homes elicit in me a nostalgic calm and a yearning for a return to the simple life, when growing and harvesting your own food was your work and nights were filled with laughter, music and games played with others rather than the tap, tap, tap of the keyboard and the constant distraction of our electronic devices. There is really nothing like looking out at the ocean from an old Gulf Islands homestead with the sun shining, an orchard surrounding you and the sound of long grass blowing in the ocean breeze to take you away from the stress of our daily living.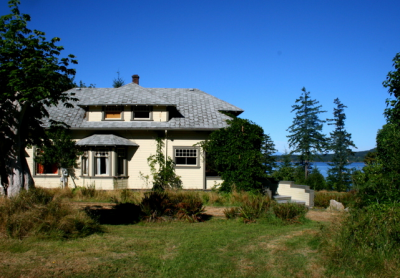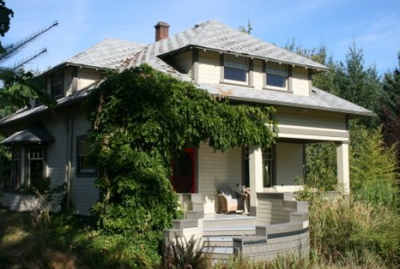 Dreaming of days gone by: Denman Island Historic Home on Oceanfront Acreage $869, 000
This home, located on Denman Island, is one of those rarely available stately heritage homesteads that I dream about. Perhaps it is because my husband and I are in love with heritage homes and currently renovating our third one or perhaps it is because of the scarcity of large well-built Arts & Crafts homes in the Comox Valley (and vicinity), but every time I see the ad for this home, I pause and look wistfully through the pictures...so I decided to find out a little more about its history.
Originally settled in 1878 by the Graham Family, these 56 hectares of Denman landscape remained largely untouched, apart from a small orchard and dairy farm until the turn of the century, when it was purchased by Dr. Frederick Lindsay-Dickson, an Englishman and avid sportsman.

He built a new house in the 1920's for his children, and later grandchildren, who were raised on the property, which he continued to cultivate and successfully farm for many decades. Recently the estate was partitioned for the purpose of creating a 52 ha Lindsay-Dickson Nature Reserve, which borders and provides access to beautiful Graham Lake.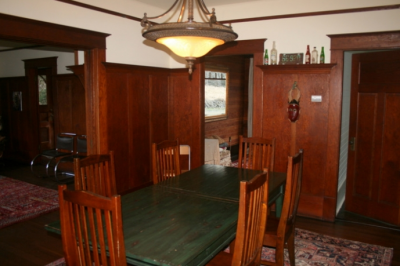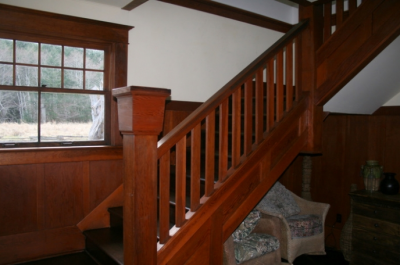 Impressive stairs and old growth clear fir wainscoting original to this 1920s home
The remaining 10 acres is comprised of forest, fields, creek, and a small orchard containing apple, pear and cherry trees. There still stands the original home, sensitively upgraded, but maintaining many original features.

The history associated with the home is unquantifiable - some of the original pioneers in the Comox Valley are represented, as is the architecture of the Arts & Crafts movement. It is an irreplaceable piece of times past.
If you're interested in more information about the home, please click here for more information.