After hours, days and actually, years of work, I am happy to say that Simply Beachfront is finally live!
You see, while running Waterfront West for the last few years, it has come to my attention that a website for waterfront accommodations might be a nice idea.
So I have been secretly working on this project for a very long time and it is now finally ready for liftoff! As a valued blog subscriber, you get to be one of the first people to view what I hope will become a large and active site with waterfront accommodations worldwide (yes, lofty goals, I know), but for now, our first region is British Columbia, Canada.

ABOUT SIMPLY BEACHFRONT
As you will see, we have integrated the site with Expedia and have Expedia partner properties available for booking online; however, you will also find independent waterfront accommodations (vacation rentals, B&Bs and resorts) that are listed separately from the Expedia properties.
SPECIAL WATERFRONT SEARCH FEATURES
Search by Activity:
Spa.
Surfing.
Glamping.
Beachfront Weddings.

Fishing (coming soon!)
Find British Columbia:
Beachfront vacation cottages (owner direct).

Bed & Breakfasts.

Resorts with vacation rental villas & suites.

Waterfront lodges, hotels & more.
GET EXCLUSIVE TRAVEL PERKS & OFFERS - JOIN THE BEACH CLUB!
You will be one of our very first visitors, so please feel free to sign-up for our Beach Club, which gives you FREE access to special rates and perks at various waterfront accommodation providers throughout British Columbia. We currently have member perks in the Okanagan, on the Sunshine Coast, Galiano Island and on the West Coast of Vancouver Island (Tofino, Ucluelet). These perks are provided by our independent accommodation providers (not listed through Expedia).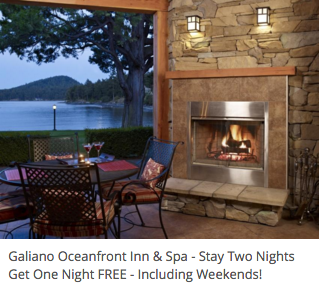 Example of One of Our Current Offers
When you sign-up you will be able to edit your Offer Alerts by region or activity so that you only get the deals you want. If you are not interested in British Columbia, you can also just choose to put your subscription on ice and we will only send out updates when we open up new provinces, states and/or countries.
Once your FREE membership is set up , you can login anytime and get the coupon codes for the perks you see on the site. Then, simply contact the property direct or via our booking request form in the following 24 hours to make your reservation and get your offer.
PLEASE SHARE
If you like the new site, we would appreciate any social shares using the tabs on the left of the home page. We would also appreciate any feedback you have.
P.S. If you know anyone who runs a waterfront hotel, vacation rental, B&B or other type of accommodation in British Columbia, we have a special very limited offer for the next 24 founding member accommodation providers who list on the site: $99+GST for one year.