Being an interior design fanatic and having done a fair deal of design work myself, I have had my own Pinterest page for a couple of years now. I've used it for everything from decor and design ideas, renovations and landscaping to recipes, Christmas decorating, kids parties and business information.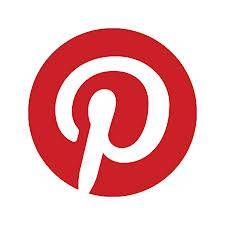 Pinterest is an awesome tool for transforming spaces and making dreams a reality. For those not familiar with the site, in a nutshell, it is a way of bookmarking and organizing photos of things you see or like online. In the last little while, I have been doing a lot of social media for the business and I started to wonder why I haven't made a Pinterest page for Waterfront West. After all, who doesn't dream of owning a quaint lakeshore cottage or fabulous oceanfront home and want to start developing a plan for that dream?
With that in mind, I decided create a Waterfront West Pinterest page to serve as inspiration for buyers coming to our site and since I am going to use it as a sort of goal board for myself and my journey to waterfront home ownership (nope, not there yet!).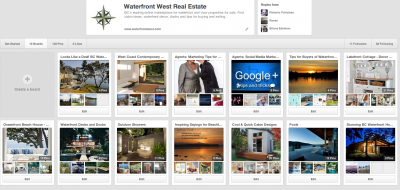 Being a potential waterfront buyer myself, I think I have a pretty good handle on what type of things waterfront buyers want to see, so I've started the boards with these:
For our waterfront sellers and marketers, I am going to be pinning all sorts of good marketing info I have been finding out on Google+ University (my own term for G+). I have found Google Plus the all around best social network for finding excellent (free) marketing information and connecting with like-minded professionals (free plug Google, you can thank me by sending thousands more visitors to Waterfront West...Cheers).
Here are some of the real estate marketing boards I am working on:
For those of you who are not familiar with Pinterest, here is an example of how I used these steps and some Pinspiration to reno my son's room:
Here is the before (beware the disaster area):
He wanted dark blue paint and I wanted a colour that would last and look good even when he was older. He liked the movie "Cars" at the time, but I tried to choose a scheme that would be perfectly fine for a teen or a toddler with a switch of a few pillows and posters.
Here is the board I put together for his room (disregard Pokemon party ideas-lol).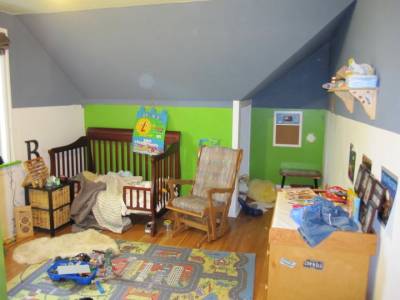 YIKES!
Here is the After:
(I added a few more accessories after this pic but we did the entire reno in one weekend so this was Sunday afternoon):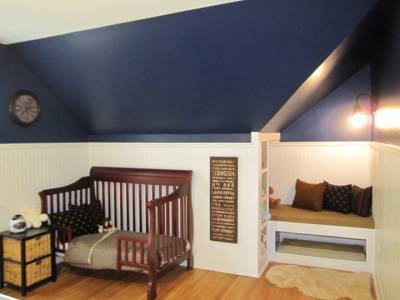 Notice how I was inspired to create a reading nook by the pin I found on PInterest. Bonus: It doubles as an extra bed when he has friends sleep over!
I bought the large Lightning McQUeen transfer I pinned and put it above his bed and incorporated some more rustic elements similar to the picture frame pin like vintage toys.
Another Before: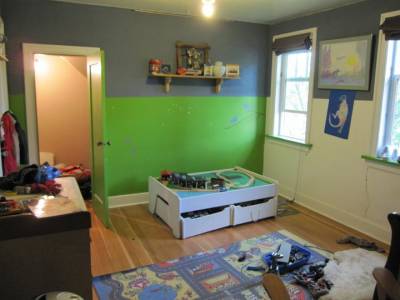 Dinos and trains were the order of the day.
Another After: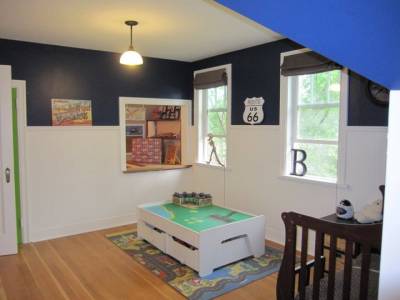 Pics not up yet, but CARS is the new theme and he has a new homework space in his gigantic closet.
This is just a small example of how I used Pinterest to help and inspire a design project, but I have used it for other areas including my exterior landscape design, my vegetable beds, our basement reno, etc...
If you have never used Pinterest before, here is a way you can use it to create and realize your projects with the added bonus of being able to find and use hundreds of great ideas from people around the world for free:
1. Start by making a Pinterest account and a board for your project (be in a cabin, home, patio, pool, room or real estate deal), do a few searches and pin anything and everything you like. Follow people with similar boards so you can see more of what interests you.
2. Once you have a bunch of pins for your space (eg. Cabin Ideas), you can sort through them looking for common themes. Do you notice a lot of west coast style buildings? Small modern cabins? A lot of green or blue? A certain type of pool you have pinned multiple times? Find what you are drawn to and whittle down your board or start a new, more refined one with your more complete vision in mind. This step is the key to unifying your design.
3. Look for pages that work with your vision and pin, pin, pin. Often I find cool ideas I hadn't thought of at this stage too. You should have a really good idea of what you want at this stage, so you can also pin products for the space and purchase them later and really refine your plan.
3. The transformation begins. Before the project begins, take another look at the board and take the elements (or properties) you like the best and incorporate them into your project. Take action! Start the project or move towards your purchase.
4. After several days or weeks, you have made another dream into reality. Yay!
We hope you will follow our Waterfront West Page or Boards on Pinterest to get some inspiring ideas for your BC waterfront dream home or cabin! Agents can follow us to get the latest social media and luxury home marketing tips we pin. Oh, yes, and please feel free to follow me and/or Waterfront West on Google Plus if you like!
Cheers