Jewel of the Salish Sea

Island life! Living on island time!
That's the dream of an increasing number of future retirees. An idyll of privacy, security and tranquility. So, what is the reality? Or is it all just an illusion? That depends at lot on the island in question and, just as important, on the person.
Salt Spring Island. A temperature zone climate just off the coast of southwest Canada, not unlike the northern Mediterranean, is home to the largest island in what is known as the Gulf Islands in the Salish Sea. The Salish Sea is so-named for the indigenous Coast Salish peoples who have lived in the Pacific Northwest for over 8000 years. Here is a small archipelago of islands tucked in between the North American mainland and Vancouver Island. Vancouver Island itself stretches almost 300 miles long, the largest island along the west coast of the Americas, and it shelters the Salish Sea from the sweep of the 5000-mile open stretch of the Pacific reaching across from Japan.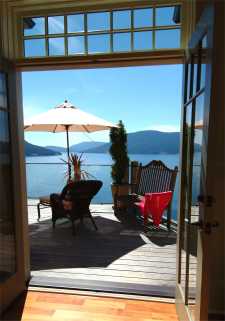 Relaxing Island Living
Salt Spring Island (SSI) is a unique oasis of a small community lifestyle and seclusion, yet connected to the outside world both physically and artistically. Almost hidden away, even though the superferries pass it at a distance, few but island residents could pick it out from the numerous islets, islands and even headlands of Vancouver Island that loom all around it.
It is known as a healing island to many, some say due to the energy of its natural rock formations. If you look at a map of the island, you can see that it is structured geographically in three distinct sections and that if the ocean waters rose another 50 feet or so, they would divide Salt Spring into three separate islands. This is due to the low, connecting valleys of Fulford / Burgoyne in the south and the valley that stretches from Ganges Harbour to Booth Canal, two-thirds up the island to the north. In between, especially in the southern two sections of the island, are mountain peaks that reach over 2300 feet high.
However, more than anything Salt Spring is a state of mind, a state created by the creative and courageous people who have settled here since the mid-1800s. Naturally, much has changed on this island once devoted almost entirely to farming and some fishing. Although tourism is now arguably the mainstay of the economy, there are still 225 farms and 3 vineyards. Many of the traditional families that settled here in the 1800s are here today and own a number of the main businesses and some significant land holdings.
Arts. This is a special focus of island life, particularly on Salt Spring where about 100 published writers reside, whose works encompass subject matter as diverse as fiction, poetry, satire and dog breeding, to technical treatises on many and varied subjects, not the least of which is the environment. Music is also a passionate focus of Salt Springers, as we are known. From the Gulf Islands Secondary School, renowned for its music program, to the internationally known musicians who live on or own residences on Salt Spring, and who perform here throughout the year, this small island of fewer than 12,000 permanent residents supports an extraordinary music community, to the joy and benefit of all Salt Springers. Visual arts are equally well represented and cherished. SSI supports its artists, from those of national and international renown to developing and dedicated painters, film makers and photographers whose works are just starting to become widely appreciated.
Yes, we have privacy and seclusion if you want it, plus low crime and a broad feeling of acceptance of cultural, religious and political differences and backgrounds. But we are also connected like no other island in the Gulf Islands. Three airlines make scheduled flights by float plane from downtown Ganges to Vancouver every day. There are also three separate ferries connecting to SSI: one from the mainland to Long Harbour, one from Swartz Bay outside Victoria to south SSI at Fulford Harbour, and the last from Crofton, partway up Vancouver Island to Vesuvius Bay on the northwest side of SSI.
Why live here, you ask? What else is so special?
Depends on what you value, but here are some features that make SSI life uniquely livable and rewarding…
A 50-bed hospital with surgical staff on SSI, a library, 3 post offices, a new community indoor swimming pool under construction, a movie theatre, a performing arts theatre, 2 nine-hole golf courses, 4 commercial marinas, 7 public docks around the island, fairgrounds, 16 churches, 7 community halls, schools, bookstores, grocery stores, 3 banks, miles of hiking trails, 22 beaches and much more.
Even with all of its facilities, however, it is the varied richness of the people of SSI, who have come here from around the globe, that makes this island a world-class choice for living in balance with the natural world and amenities of the 21st century.
So, come and discover Salt Spring for yourself.
Author:Trev Mclean, By The Sea Bed & breakfast