Nanaimo Waterfront Real Estate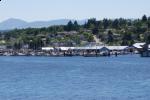 Nanaimo is the second largest city on Vancouver Island. It is known as Hub City as it is included as one of the points on British Columbia's "Golden Triangle" (Victoria and Vancouver being the other two). Nanaimo sees millions of tourists pass through each year on their way to other spots on the Island or to take advantage of one of the city's many hot spots.
As the gateway to the Island's interior, Nanaimo's main attraction is its proximity to the Pacific. There are many of pieces of luxury real estate to be found with immediate waterfront access. Marinas, floating restaurants, and other unique attractions dot the water line. If you are looking for a luxury home apart from the rest, the Nanaimo neighbourhoods of Protection and Newcastle Island might be perfect for you. At low tides you can walk between the Islands, both of which include several beaches. You won't find many houses on the islands, but residents share the unique benefits of small island living including privacy and a sense of community, while of being close to a major centre. Other notable areas include north Nanimo, featuring many large modern homes and Nanoose Bay, further north of the city. Nanoose is home to the Fairwinds golf course and is a more rural area featuring easy access to many outdoor activities. Many luxury waterfront homes are located in this area. Although Nanaimo plays host to millions of people each year, the city itself is not too large and all neighbourhoods tend to be easily accessible. This means that popular destinations such as the Arts District and the Waterfront include easy access to some of the most upscale amenities around.