B.C. Waterfront & View Real Estate Developers: 
---
Reach thousands of British Columbia waterfront property buyers every month.
Waterfront West's "NEW HOME FINDER" section is one of the least expensive ways to get your new waterfront or water view development out to a qualified audience of interested B.C. waterfront buyers.
Waterfront West Demographics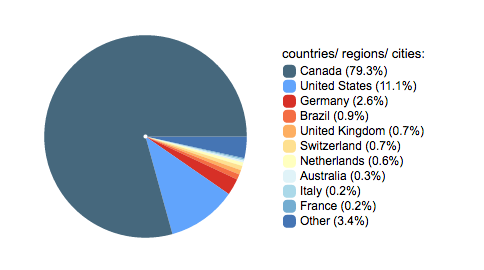 Waterfront West is on the first page of Google search results (usually Top 10)  for a wide range of B.C. waterfront real estate terms.
Thousands of unique visitors/month come to our site to look at B.C. waterfront & view properties for sale.
Access Qualified Buyers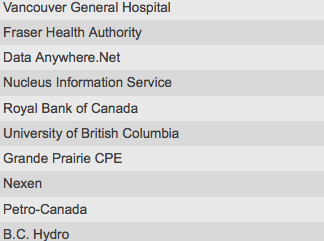 Our niche market attracts qualified buyers working for energy and technology companies, provincial health authorities, banks and cities.
The screen capture to the right shows some of the top companies of visitors accessing Waterfront West. 
Target Vancouver, Calgary, Edmonton
The majority of our search traffic originates from cities like Greater Vancouver, Calgary, Edmonton and Victoria. Spend substantially less to reach buyers in these key hubs than you would spend on print ads in local papers, etc... Plus, on Waterfront west, you will reach a captive audience of buyers who have come to Waterfront West looking speicifally to buy B.C. waterfront real estate.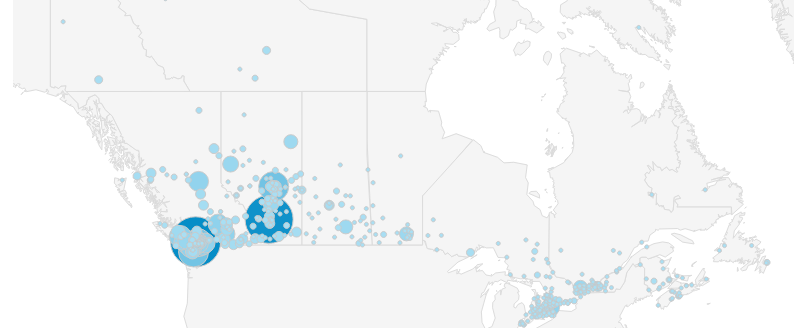 Get Your Development
on Waterfront West Now for
$489.00+GST/1 Year 
GOLD DEVELOPMENT PLAN INCLUDES:
Professional Property Upload.
FEATURED Status for your development.
Inclusion in "New Homes."
Unlimited photos.
YouTube Video embed.
Single advertisement.
Unlimited property description.
Property inquiry form.
Inclusion in our email alerts.
Contact information.
Agent or seller profile.
Link to your website.
Driving directions, Google Streetview & currency converter.
Login to manage your ad 24/7.  

  

$489.00+GST/1 Year 
FEATURED STATUS:

With Featured Status, your property stands out in our search results with a highlighted and starred title.
Featured properties are also displayed randomly above search results in your area and in other prominent places on Waterfront West.  
or call us at 866-799-9378 for more information.