Welcome Buyers!
On this page, you will find directions on how to manage your subscription including how to use your buyer tools like saving searches, saving properties, getting automatic email updates of your favourite searches and properties and making bulk inquiries.
The images on this page are from the old version of our site, but it will still function the same way.
A. How to Save Properties.
You can save properties you are interested in and we will alert you when the price or any details of the property change.
To do this:
1. Login to the site.
2. Click "Home" and start seaching properties.
3. When you are viewing the details page of a property you like, there is an option to save at the top of each property. Click to save the property to your Favourites.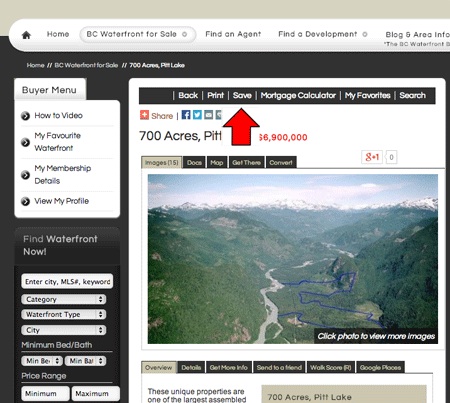 B. How to Make New Property Alerts for Your Searches
1. Login to the site.
2. Search for properties using the advanced search/ map search (the one with the Map View at the top). If you want to search for a specific type of property or city, click on the "Click Here to Refine Search / More Criteria" link to show more search options. Select your options.
3. At the top of the advanced search page above the map, there will be an option to "Save Search". Click this option. now you will get updated when new properties come up with the criteria you have selected! Enjoy!