BC Lakefront Real Estate and Homes for Sale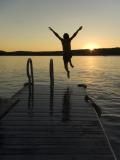 If you are looking for lakefront real estate for sale in Bitish Columbia, you have arrived at your destination. Waterfront West is B.C.'s premier website for buyers looking for waterfront property for sale. Our site features lake front, ocean front and river front real estate for sale privately, through agents and from developers in biritsh Columbia.
Please click here for our advanced search and select your region and type of waterfront to quickly find lakefront real estate for sale in British Columbia.