Waterfront Building (Part 2)
-
With Residential Designer
John Gower
3. What are some of the basic rules about setbacks with waterfront property that our buyers should be aware of?
Anyone with a house in town will be familiar with the concept of building setbacks. Setbacks, in effect, define a "no build zone" creating a buffer around buildings and between neighbours.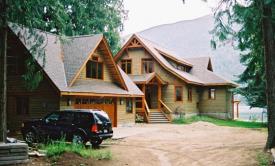 Side yard setbacks will be largely determined by considerations of fire safety and privacy. Typically they range from as little as 1.5 metres to 3 metres or more, depending often on the size of the properties in the vicinity.
Waterfront setbacks vary from as little as 7 metres on lakefront in the Interior to 15 metres on many of the Gulf Islands and in some cases even more. They have been put in place for a number of different reasons including the protection of private property from storm damage, maintaining visual continuity of the shoreline and protecting shoreline vegetation and habitat. Every region will have a setback policy and a list of activities that are permitted in this area. Check with your local building department for requirements.
One thing experience has taught some of our clients: do not assume that the setback is defined by the location of existing dwellings. Many homes or cottages built more than 20 or 30 years ago are much closer to the natural boundary than is currently allowed. If you seek to renovate one of these "grandfathered" dwellings you may be able to retain the relaxation. However, any new construction will have to be in accordance with the current rules and this generally means moving it farther back from the water's edge.

4. Besides shoreline setbacks, what are some of the other major restrictions for building on waterfront and water view properties?
Slope instability due to failure or erosion is possible with waterfront and water view lots. This can be exacerbated by the building of a house, so make sure to have an engineer's report, and check with your municipality for any past or present concerns about the area before building or purchasing.

Flood Control Levels

On lakes these are determined by seasonal high water, on the ocean, they are usually determined by maximum storm surge levels, and on rivers by what's called the 100-year or 200 year flood. In some cases it is the flood protection level that governs where the house can be located more than the setback.
Septic Disposal Issues
Check for sufficient depth of soil and adequate level area for a field, generally 100 feet back from the so-called "natural boundary". As the easily developed lots are gone first, most new homes built near the water are required to pump from the septic tank to their dispersal field.
Water Supply
Clean, drinkable water is in short supply on many islands and in the Interior. Make sure you can access a good water supply.
Construction Access
If your property is boat access only - as on many of the smaller

islands and remote lakeshore - you need to think about how you will transport building materials and tools/machines necessary for building.
Public Access and Parking
Is there a public beach access near your property? Ensure you will

have adequate space for your own parking and to come and go as you please, without being blocked by the cars of other residents.
Archeological Concerns
Many of our local beaches are rich in First Nations history. In some cases, buyers of bare land may find that they have purchased a piece of property with previously unknown historical value. In these cases, construction is often halted in an effort to preserve a part of our history.

John Gower is the founder and principal designer of Vancouver-based BC Mountain Homes and John Gower Design Ltd.. His office offers a range of design services from carefully crafted, modestly sized stock home plans, which can be modified to suit any client or site condition, to full custom design solutions.

His homes can be found throughout the BC South Coast and Islands, the BC Interior, Southern Alberta, and in many locations throughout the USA and overseas. See their comprehensive Web site http://johngowerdesign.com to peruse a collection of unique cottage and home plans, read up on the details of rural property development or explore the option of having John Gower Design work with you to create a custom design that will truly "fit you beautifully".