Luxury Homes Victoria: East Saanich Area Information
East Saanich

When it comes to luxury island living in British Columbia, one of the premier communities has to be East Sannich, part of the larger city of Victoria. As a part of Victoria, East Saanich residents have at their disposal all that the municipality has to offer, from the tourist atmosphere afforded by the downtown area (and centered around the Provincial Legislature and the Empress Hotel and surrounding districts) to the metropolitan opportunities of the city.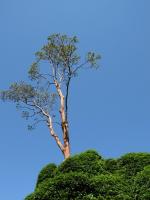 Beautiful Arbutus Tree
However, East Saanich provides a definition of luxury living all its own, bordered as it is by the University of Victoria campus to the east as well as the Pacific Ocean. The neighbourhood of Cordova Bay, in particular, has been noted for its collection of estate homes, cottages, and new subdivisions all perched above and along the coastline (and that, of course, means high end ocean front real estate). Other luxury areas in East Saanich include prestigious 10 Mile Point (an area where both Steve Nash and Nelly Furtado own homes) and Queenswood Avenue.

As you might expect with the University of Victoria so close, cutting edge culture helps to define East Saanich living. Multiple opportunities for theatre, ballet, and sports recreation abound. Included among these opportunities is some of the best golf to be enjoyed anywhere on Vancouver Island; Cordova Bay, Blenkinsop Valley, Cedar Hill, and Prospect Lake golf courses are all located within the bounds of East Saanich, and all offer absolutely magnificent views of local scenery (ocean, arbutus dotted forest, and lakeside) to be found on the links.
In addition to developed recreational opportunities, chances at self-driven recreation also abound in East Saanich. There are 170 municipal parks in the area, as well as three regional parks. The parklands are interconnected by hiking and biking trails, including the city wide and city maintained network route. In addition, marinas are interspersed with the mansions located along the coast line.
East Saanich also has much to offer its residents in the area of shopping opportunities. Gordon Head is an upper middle class neighbourhood within East Saanich. Comprised of single family dwellings, there are numerous opportunities to catch a movie, shop at a mall, or take in a meal at a restaurant close by.
All in all, East Saanich has everything that the seeker of luxury living in Victoria can offer. High end recreational opportunities abound here in the heart of the Pacific playground.