Victoria Luxury and Waterfront Homes
Central Saanich Area Information
Luxury island living is a dream of many people throughout their lives. While most envision this style of living as having their own private island mansion, the neighbourhood of Central Saanich in Victoria, British Columbia can offer those with a dream of upscale living a viable alternative. It's not quite tropical, with arbutus in place of palm and light rains instead of monsoons, but most residents of this upscale neighbourhood will vouch that it is a dream of paradise come true.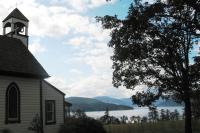 Country Church Near Brentwood
Like neighbouring North Saanich, Central Saanich is a community dedicated to the preservation of the rural lifestyle it has long led. Originally made up entirely of farms, Central Saanich has seen increasing development since the mid-1980s, development that saw an explosion in single stand alone homes as well as luxury townhomes. The most notable pieces of luxury real estate on this part of Vancouver Island are, of course, the mansions, in many cases built on estates and reflecting a variety of different styles, from colonial to modern.
Many of these luxury homes in Victoria take advantage of the excellent views afforded by the location of Central Saanich. Bordered by the Juan de Fuca Strait on one side and Georgia Strait on the other, Central Saanich has unparalleled ocean front living, with commanding views of the mighty Pacific up and down both sides. Areas of note for luxury properties include Tod Inlet, Brentwood Bay, West Saanich Road and McPhail Road.
Central Saanich is not without its share of noteworthy amenities, either. In terms of outdoor recreation, both the famous Butchart Gardens and the Sunshine Hills Golf Course are popular with local residents. The Butchart Gardens are a part of the cream of the crop in terms of luxury living, a sprawling estate with some of the most unique flora to be found in the province, tended and maintained by a family estate.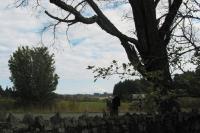 Pastoral Views in Central Saanich
All of the amenities of a major city are within reach from the Central Saanich area. Located in the heart of Victoria, restaurants such as the locals' haunt Pagliacci's and well as more upscale restuarants such as Il Terrazzo are within a 20 minute ride by car. For a more exotic evening out, residents can take a trip across the waters to the entertainment afforded by Vancouver, Seattle, or even Portland.
Recreational opportunities are also luxurious when it comes to self created fun. The Pacific is a playground for the outdoor enthusiast, and Central Saanich boasts parks for walking, marinas for docking a pleasure vessel, and miles and miles of ocean for wildlife viewing, cruises, fishing, and exploring.
All in all, Central Saanich contains just about everything that the upscale resident could ask for. A variety of housing opportunities command high prices and stunning views, with all the benefits that life along the Pacific Coast has to offer.