Septic & Watewater Systems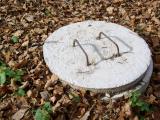 Septic systems are particularly common on rural and cottage properties; therefore, it is very important for shoreline residents to have a strong knowledge of them. Waterfront properties, which tend to have wetter soils, can pose extra challenges for septic systems. Soil conditions can make your system less efficient in treating wastewater and allow harmful pollutants to get into the water body you live beside. As a waterfront buyer, you must pay particular attention to the septic system of a property you are considering purchasing.
On-site Wastewater Treatment System
Septic systems are a good way to treat waste - so long as they are functioning properly. If your potential property is not connected to a municipal or private sewage treatment system, it likely has an on-site septic system to treat the sewage from the household. Although out of sight, please don't put the septic system out of mind! Faulty septic systems can be extremely hazardous since improperly treated effluent can harm both the homeowner's health and the health of the environment.

Prior to purchasing a property, you should always have the septic system inspected by a licensed septic contractor. When first viewing the property, here are a few indications of a possible failed system:
• The lawn over the drain field has patches of abnormally

healthy-looking grass.
• There are soggy areas, areas with surfacing grey water, or areas

with surfacing sewage on or near to the drain field.
• The lawn above the drain field is wet.
• Sewage backup begins in the toilet and drains.
• The sinks, showers and toilets drain more slowly.
• There is a sewage odour over the area of your drainage field.

This information was reprinted with permission from the Living By Water Project. For further information Environmental Advice for waterfront owners, please visit: www.bcnature.ca/projects/completed-projects/living-by-water Copyright Sarah Kipp, Living by Water Project