After several years of lagging, word on the street is that the BC recreational real estate market is showing signs of life again this year. Many of our member agents report an uptick in interested buyers buzzing around their offices and inquiring about properties this summer and with good reason. In many communities, the slower market for the last several years has resulted in lower asking prices and with mortgage rates still low (although creeping up slightly this week), BC waterfront is an attractive option for many buyers who were waiting on the sidelines to jump in again (no pun intended).
One place that was hit especially hard throughout the slump, is the idyllic island(s) of Pender. Located in the Southern Gulf Islands and accessible by ferry from both Vancouver (Tsawwassen) and Victoria, "the Penders" have many of the benefits of Gulf Island waterfront living as nearby Salt Spring, but with a much lower price tag and a quieter lifestyle.
Our member agents on Pender have been mentioning that their recreational real estate has slowed down substantially in the last few years, but it really hit home when I viewed the report from Landcor showing waterfront single family detached sales from the last few years. According to the report, sales went from a height of 21 in 2007, to less than half of that in 2008. The number of waterfront sales has been substantially lower than in 2007 every year since with only 2 as of June 26, 2013. Of course, there are a few pending sales that are not showing up in the stats yet, but with an average sale price of only $503, 750 so far this year for recorded sales (compared to $818, 333 on Salt Spring) and a high inventory of waterfront and view properties for sale, it is definitely a good time for buyers to take a closer look at the Penders. I decided to contact some of our waterfront specialists on Pender to get a first-hand account of what is happening in the market.
Pender Island Waterfront Single-Family Detached Sales 2006-June 26, 2013

Statistics Provided by Landcor
After perusing these stats, I decided to contact some of our waterfront specialists on Pender to get a first-hand account of what is happening in the market. Our member agent and co-owner of Dockside Realty Ltd., Sam Boyte, explained that with the high inventory of homes for sale, prices have become more competitive and there are currently some very well-valued homes for sale. He says that buyers are starting to take notice of the price drops on Pender Island waterfront properties (over 20% in some cases), but because of high inventory levels, buyers are making sure to get the best value for money (Read=buyer's market). Rob Southey of Pender Island Realty agrees, commenting that the most expensive sale so far this year was an ocean view acreage for $610, 000. He says that there is a great selection of upper-end property for sale on the island right now and that pricing is more flexible than it has been in the past.
Sam provided us with a look at the overall sales recorded by VREB over the last few years and the trend with recreational property on the island is similar to that of the total real estate sales on Pender:down. Is this the low point? Maybe. It's difficult to forecast real estate with the market swings we have seen in the last 5 years, but one thing is for sure, there are some nice properties available now at a good price point and there's possibly some good bargaining to be had- at least until the word gets out.
Pender Island - Market Statistics (Historical MLS Sales-All Companies)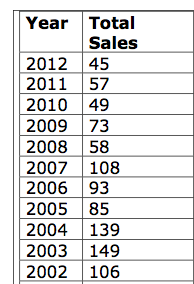 *Source: Victoria Real Estate Board Statistics. Searched by SOLD properties from Jan 1-Dec 31 in each year provided.
Pender Island Oceanfront Property Picks
Here are some very well priced waterfront property picks from our member agents.


Note: Priced at $30K below the 2013 Tax Assessment. Sellers are motivated!