My husband and I often travel to Victoria to visit friends on the weekend. For over a year now, on our various trips, we have been watching the evolution of the Qualicum Landing site. From the initial sculpting of the land to the framing and exterior finishing, we have been impressed by the thought put into this community and the classic style of the homes.
Needless to say, we were waiting with anticipation to see inside the gates and we (or at least I-my husband was watching our little one) finally got to see the show homes last Saturday and meet the team responsible for creating such a fine place. Being in the real estate business, I have had the chance to see many developments and this one stands out for its quality, attention to detail and design.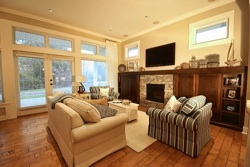 The fantastic Cape Cod inspired show homes featured 14 ft ceilings, deluxe stainless steel appliances, granite countertops, pre-wired sound systems, heated tile floors and walk-in showers. The gated community will also includes a community garden, a clubhouse with heated outdoor pool, two spas and a games room. Keep in mind the fact that it is located directly on a fabulous piece of Vancouver Island oceanfront property and it's hard to believe you can get into this development for $369, 000!!
On another note, some of you in Vancouver may have seen our prominent advertisement downtown last week. This unique form of advertising, pioneered by Vision Media, put us right in the centre of things for the pre-Olympic hype and tourist traffic.