Vancouver Luxury and Waterfront Real Estate
UBC Endowment Lands Area Information

Luxury homes anywhere come at a high price, and perhaps no one factor is more significant when it comes to marking up the price on a home than the cost of the land the home is built on. When it comes to exclusive neighbourhoods near the city of Vancouver, there truly is no benchmark like that set by the residents of the UBC Endowment Lands (also known as UEL).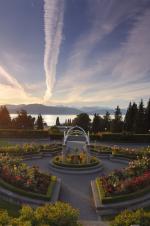 Ocean & Mountain Views from UBC
This community is, in fact, not officially a part of the city of Vancouver, with residents traditionally opposed to any means of incorporation. Instead, the denizens of the modern and sprawling estate style homes that infrequently dot the rainforest topography of the UEL area pay taxes directly, and only, to the province of British Columbia. The UEL is in effect a world unto itself, totally different in makeup and appearance from the rest of Vancouver, which becomes more densely populated by an exponential factor the further one travels to the east.
The big draw of the luxury estates in the UEL area is, of course, its exclusivity and contingent privacy, but only slightly less attractive are the views that these multimillion dollar homes command. Bordered on three side by the Pacific Ocean and to the east by the Pacific Spirit Park, residents of the UEL enjoy an environment that is unparalleled anywhere else in the world (and there are more than a few groups who have battled to keep it that way). The area has a multitude of housing opportunities including student housing, luxury condominiums, townhomes and sprawling deluxe estates.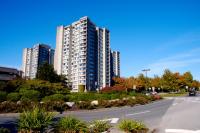 Gage Towers UBC
Of course, part of what makes this neighbourhood so unique is that it is an island of privacy located within a few minutes of a bustling metropolis. Many residents of the University Endowment Lands get their culture by attending or meeting at one of the many amenity minded facilities run by or close to the University of British Columbia . As is true of the nearby neighbourhood of Kitsilano, the University Endowment Lands tend to attract residents interested in cutting edge culture, and the proximity of the UBC campus allows for just that.
When it comes to truly unique and exclusive luxury real estate opportunities in British Columbia, the home on the University Endowment Lands, and those on Southwest Marine Drive, are truly in a class to themselves. Cutting edge culture, incredible ocean views, and estate style housing are all a part of this high end Vancouver area neighbourhood