Penticton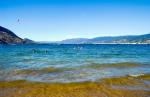 Spectacular Lake Swimming
Penticton is the southernmost of the Okanagan's larger cities. With a population of just over 30,000 it does not have the diversity of Kelowna as far as amenities, but for those who prefer a rural feel to their luxury homes it is perfect. As with the rest of the Okanagan Penticton enjoys hot summers and warm winters and easy access to several lakes. The most popular of these lakes are also the locations of the majority of Penticton luxury real estate developments. Both Skaha and Okanagan Lakes attract upscale buyers from around the globe to their shores for both full time and vacation housing opportunities.
Penticton is also situated within a half hours' drive of the United States border. The crossing will not get you directly into any major cities, but the many amenities of the States are just a few hours away through a very relaxed crossing.
Another appeal for those attracted to luxury real estate as far as Penticton goes is the fact that this city is considered to be the wine hub of the Okanagan. As the region rivals Niagara for the finest wine producing regions in the country, this title is not to be taken lightly. Penticton is home no less than 88 different vineyards, which means tours and plentiful supplies of the age-old vintage for the well to do.