After looking at waterfront property around the province for much of the day, I consider a single family lake or oceanfront property under $650, 000 to be a good price on southern Vancouver Island and in the current market. While investigating the market in our 5th area for single family waterfront sales this week (Duncan Rural), I got excited about some of the seemingly good opportunities around the Duncan area. According to our stats from MyLandcor, Duncan Rural includes areas such as Shawnigan Lake , Mill Bay, Cowichan Lake, Youbou, Cherry Point, etc...
Having lived in Victoria most of my life, I remember Shawnigan Lake as a popular destination for summer getaways. In those days, it seemed a long way out of the city but with the recent growth of the Western Communities , it seems you are barely out of the city when you reach the infamous "Malahat." Now it seems these areas are just a hop, skip and a jump from Victoria and with the population of Victoria spilling over the Malahat into areas like Mill Bay, Duncan and Shawnigan Lake I am suprised that the waterfront prices aren't higher. While Cowichan Lake is a little farther away, it is still within a two hours drive of downtown Victoria-not bad as a vacation destination considering Ozzie Jurock considers anything 4 hours from Vancouver a shoe-in for vacation property.
Our member Realtor, Norm deWit, owner of Osborne Realty and www.waterfrontvancouverisland.com, specializes in waterfront on the Island and particularly the area around Duncan including Lake Cowichan, Shawnigan Lake, Youbou, etc...While Norm's office says this year was a bit slower (which our stats reflect-click here for reference), the average sale price for single family waterfront in this region only increased (so far) by just over $65, 000-a far cry from other areas such as the Sunshine Coast, where prices in some areas went up over $300, 000 since last year. A quick search of the MLS "Duncan" region shows lakefront for under $500, 000 and even oceanfront property close to $400, 000 (!)
Who is buying in this area? Norm says they are seeing buyers mainly from Alberta and other parts of B.C. but also some from Europe, the U.S. and even Mexico.
Norm's value pick's for the area are listed below:
One of the last lots in a beautiful waterfront development $415, 000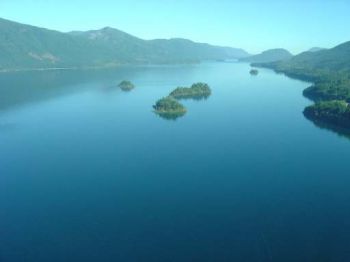 Lake View Home with access to Dock and Lake $299, 900