With the recent California wildfires, you may catch a glimpse of our #3 waterfront area on your local news. Located near Port Alberni on Vancouver Island, Sproat Lake, which accounts for the majority of waterfront sales in the Alberni Valley is home to the Mars water bombers that are due to arrive in San Diego today. Our member real estate agent Dave Koszegi of RE/MAX Mid-Island Realty and owner of www.midislandhomes.com, gave us the rundown on the waterfront market in the Alberni Valley.
Waterfront (Single Family) on Sproat Lake can range anywhere from around $600, 000 - $1, 500, 000; however, Sproat Lake properties have been listed for up to $4, 000, 000 (!) in the past. Dave says last summer was a busy one for Sproat Lake waterfront. He has had 29 sales transactions for lakefront properties over the course of the season and has noticed (as have some of our other agents) a recent surge of activity again in the waterfront market. Note: I like to think this is due to my recent blog, which recommended that now is a great time to buy waterfront, but I'm sure there are other contributing factors. Perhaps the short summer left us pining for more sun and dreaming of lazy days by the beach.
One of the most surprising things that came up in my conversation with Dave was the fact that although the market is extremly busy, he has not seen many buyers from Alberta in the area. This seems to be an anomaly in the B.C. waterfront market. Dave says he has seen some interest from Europeans as well as Californians, but comments that the bulk of the buyers hail from large B.C. cities. Indeed, with it's location on central Vancouver Island, it makes sense that B.C. buyers (particularly from Victoria) looking for vacation property would find Sproat Lake attractive with it's affordable (in waterfront terms) prices and abundance of recreational opportunities.
Dave says his hottest properties so far this year have been eight luxury townhouses in a gated community, six of which sold right away, listed between $629, 000 and $750, 000. With the majority of buyers hailing from Vancouver and Victoria and buying primarily for vacation purposes, it makes sense that these would be popular given the low maintenance requirements. Another hot product at the lake is the Dockside on Sproat Lake Community, with only 3 of 8 semi-waterfront lots still available (priced from $269, 900). Links to both properties are available below:
Mya Beach - Lakefront Luxury Town Homes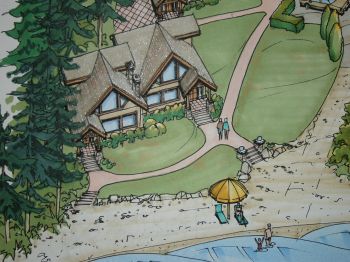 Dockside at Sproat Lake - Lots