North Shuswap - The "Sunny" Side of the Lake
Shuswap Lake is among 21,000 lakes in BC but one of the very few lakes warm enough for easy summer swimming. The shoreline estimates vary but most say it has approximately 1000 kilometers of shoreline. When full, the Shuswap Lake covers 78,720 acres and is at an elevation of 1131 feet. Thousands of residents around the Shuswap take their drinking water directly from the lake. Shuswap Lake boasts a 25 foot clear vision and replenishes every 11 months. The Lake takes the shape of a lazy H with the 4 Arms - Shuswap, Seymour, Anstey and Salmon arms - meeting at the Cinnamousin Narrows.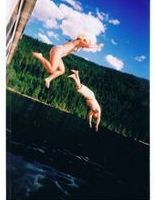 Summer Fun at Shuswap Lake
Shuswap Lake is a prime summer vacation destination for those who like to boat, water-ski, sail, camp or fish, and the lake is also touted as the houseboat capital of Canada. The average summer day will see daytime temperatures reach 28 C and an average winter day will reach a high of –5 C. The Shuswap area enjoys 4 distinct seasons and is therefore a seasonal destination for hiking, cycling, canoeing, quadding, snow skiing, and snowmobiling.

The community of North Shuswap is located on the north shore of the Shuswap Lake approximately one hour east of Kamloops, 45 minutes west of Salmon Arm, and 2 hours north of Kelowna. Residents call it the 'Sunny Side of the Lake' as most of the shoreline faces south for maximum sunlight. The community is comprised of 6 hamlets known as Lee Creek; Scotch Creek; Celista; Magna Bay; Anglemont and St. Ives. The road through the North Shuswap leaves the Trans Canada Highway at Squilax, is paved and well maintained with many scenic kilometres following the lakes edge. Once you cross the bridge over the Adams River (home of the world-famous Salmon Run), you are officially on the North Shuswap and soon in Lee Creek. The paved road ends 55 km to the east at St. Ives. From St. Ives east you travel the gravel road to Seymour Arm.

Residents and visitors alike enjoy exploring by boat, and of common interest to all is the pristine beauty of our lake and great effort is made to keep it unspoiled and unpolluted. A treasure we can all be proud of.
This article was provided courtesy of Al Christopherson, North Shuswap area specialist, Century 21 Lakeside.