Revelstoke
Revelstoke is the easternmost of the Kootenays municipalities. Located at the west of the Rockies, until recently it was a working town. However, the recent expansion of the Revelstoke Mountain Resort has led to an incredible rise in prices in homes both within the resort and in the town itself. The mountain is famous for having the largest vertical drop anywhere in North America, and luxury vacation homes on the hill abound.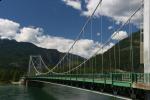 The resort appeals to luxury home owners of all recreational bents. The winter, of course, is dedicated to various types of skiing and snow mountain activities, with summer time devoted to the handful of golf courses in both the town and the resort. Luxury real estate includes chalets and condominiums; the perfect place to enjoy a winter's hot tub soak while viewing the snow covered mountain peaks.
While resort living is the main choice for those looking for luxury real estate in Revelstoke, there are a few very nice homes located along the Columbia River. This huge river boasts some of the most incredible views in the province, so many of the wealthier local residents choose to make neighbourhoods which border it their homes.