Ever since the price of oil started to slip, I have been wondering about the possible effect the oil slump might have on B.C.'s recreational real estate market.
Historically, a large segment of our site visitors (around 19-22%) have hailed from Alberta and we know that Albertans like to purchase waterfront getaways and retirement homes in British Columbia. With the market for recreational properties on the upswing again in many of the smaller B.C. communities, could a lack of Albertan cash be enough to send us back to a slow market?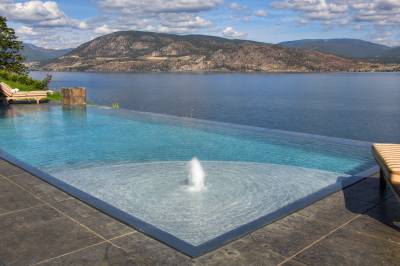 Interest for properties like this luxury waterfront home, listed by the Jane Hoffman Group in Kelowna for $8, 975, 000, often originates from other Canadian Provinces or large urban centres like Vancouver & Calgary.
There are two sides to the coin. On the plus side, lower oil prices have been partially responsible for our current low mortgage rates; however, on the flip side, Albertans with an eye on B.C. real estate could have a tougher time selling or refinancing their homes in Alberta due to the lagging real estate market there.
So where will we end up?
With this question in mind, I started to investigate our site statistics and what I found may surprise you!
Let's get started with a look at the year-over-year visitor traffic to our site. Since September 2014, when news of the slump first came out, the percentage of Albertans as a total of our site visitors has actually increased slightly. Furthermore, according to the breakdown below, we have seen a year-over-year increase in the percent of Albertans (as a total of our Canadian traffic) visiting the site since January. It looks like Albertans are still on the hunt for B.C. waterfront properties and that not only Albertans, but also people from Ontario might be longing for mild B.C. winters and ocean breezes.
Top Provinces:
Breakdown of Canadian Visitors to Waterfront West (January 1, 2014-February 25, 2014)
BC 58.6%
AB 25.4%
ON 8%
Breakdown of Canadian Visitors to Waterfront West (January 1, 2015-February 25, 2015)
BC 52%
AB 29.2%
ON 10.5%
Why the increase in interest from Alberta in the face of this slump? It's difficult to say. According to this Globe and Mail article, for the first time in several years, B.C. is experiencing a positive net migration of people from Alberta. In the last few years, many B.C .residents have moved to Alberta for high paying oil industry jobs in places like Fort McMurray; however, now they are starting to trickle back into the province to find work here. Even when they are working in Alberta, some of these workers maintain a primary home in B.C. and commute back to Alberta on a weekly or bi-weekly basis, thereby supporting the market here. Although they may have a primary home here or purchase a cabin for family vacations, these younger oil industry workers; however, are not the typical demographic purchasing luxury B.C. waterfront homes.
B.C. luxury waterfront home buyers are more likely to be people who are nearing retirement, with equity in their first home, looking for a second home to enjoy or to retire to permanently. Furthermore, most our our site visitors from Alberta hail from Calgary. Could this increased traffic be comprised of oil industry executives that are getting ready to retire? Possibly. Notably, two large oil related firms were listed in the top 10 companies our site visitors originated from during the last two months.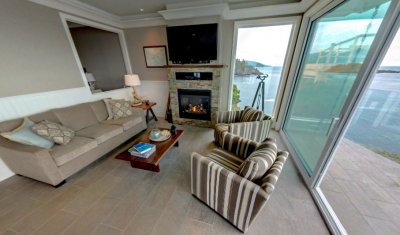 These Furnished Oceanfront & Condos Cottages at SookePoint are Popular with Retirees
With the real estate market in Alberta only having taken a turn for the worse in the past couple of months, it's a little premature to really delve into the sales stats and find out the true toll the slump will take on our recreational market, but judging by our site traffic so far, at least the desire to purchase B.C. waterfront is still alive and kicking in Alberta. Whether that results in sales remains to be seen.
To find out more about the situation, I contacted two experts on B.C. recreational real estate who typically work with Albertan buyers to find out if their information meshed with ours. I also asked them a few questions about their forecasts for the B.C. recreational real estate market this year.
The Experts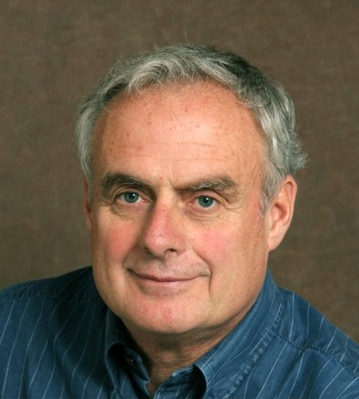 With over 50 years of real estate experience, Rudy Nielsen is a highly regarded expert in the industry. He has occupied the roles of developer, appraiser, entrepreneur, landowner, real estate consultant, speaker and deal maker. A skilled negotiator, Rudy has successfully closed many notable deals and worked with thousands of individuals on buying and selling real estate. Rudy is also an innovator and a trailblazer, anticipating the needs of the real estate and financial industries, and developing products to serve those markets. He's also a really nice guy and a very entertaining speaker.
Rudy is the founder of no less than three of British Columbia's major real estate corporations:
Landcor (President & CEO): One of Canada's top-tier online real-estate companies, specializing in an Automated Valuation Model (AVM) for real estate data analysis and valuation.
NIHO Land and Cattle Company (President & CEO): One of British Columbia's largest private owners of recreational property, with over 40 years of experience in buying, selling, managing and developing all types of recreational property and real estate throughout the province.
LandQuest (Founder & Partner): A unique real estate company specializing in marketing rural, recreational and investment real estate for sale throughout British Columbia. With a large database of listings ranging from small bare land acreages to large trophy ranches in all price ranges.
Rudy is a designated fellow of the Real Estate Institute of B.C and an accredited member of the Appraisal Institute of Canada.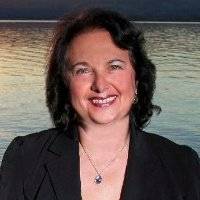 Jane Hoffman has been selling real estate in Kelowna since 1985. As one of Kelowna's top producing agents, she is familiar with all aspects of real estate, in all areas of Kelowna. Jane is intimately involved in the day-to-day operations of Jane Hoffman Group, oversees all sales transactions and works to build strategic partnerships and relationships in every area of her real estate business. She has a very strong commitment to her community and is an avid supporter of the arts and the Central Okanagan Hospice Association.
The Questions:
1.
Do you think the drop in oil prices and slower housing markets in Calgary and Edmonton will affect sales of B.C. recreational property to Albertans this year?
Rudy:
No I don't think so. I think B.C. will continue to be the recreational playground for the oil people from Alberta and some from Saskatchewan. I also think that a lot of buyers will come out of the Eastern Canada for retirement in B.C. because of the heavy snow and cold winter they have had this year specially from Ontario East.
NOTE: Incidentally, overall traffic to LandQuest and Niho from Alberta has also increased year-over-year since September, with just a slight drop from Calgary visitors recently. They also report that they are still getting calls from interested buyers in Alberta.
Jane:
We're fortunate that Kelowna draws buyers from various markets across Canada. If the Alberta pool of buyers is quieter this year, we still have a strong segment of buyers from locations such as Vancouver and Eastern Canada whose wealth isn't as "tied" to the Alberta economy. We are also fortunate that Kelowna is highly desirable to retired people across Canada who have acquired their wealth, have secure finances and are looking to spend their senior years in our mild climate enjoying all the amenities Kelowna has to offer.
We are also seeing people commuting to work in Alberta while maintaining their primary home in Kelowna. They are purchasing second homes here and commuting back to work in the summer months taking advantage of charter flights flying direct to Calgary, Edmonton and Fort McMurray.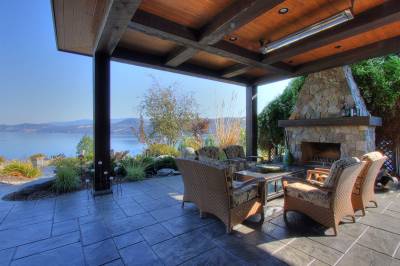 If the stats tell the story (and the cold winters continue in the East), we'll see increased demand for B.C. waterfront properties like this (also listed by Jane Hoffman Group for $1,499,000) from Alberta and Ontario in the future.
2. Do you think low mortgage rates will result in more sales to local buyers this year?
Rudy:
Most buyers looking for recreational property are established home owners with equity looking to enjoy the property immediately and possibly to retire there in the long term. The current low rates should help these buyers use their equity to accomplish these goals, so that should be positive for the market.
Jane:
The low mortgage rates are certainly enticing people to strongly consider new ownership options. Whether it is a new home buyer looking to redirect their rent payments to mortgage payments or a family looking to upgrade to a higher price range, the low mortgage rates are allowing people to make changes and reposition themselves.
3. Are you starting to see more U.S. and international buyers purchasing B.C. recreational property now that the dollar is lower again?
Rudy:
Not really U.S. buyers yet as much as the Chinese and some Europeans. Foreigners love Canada because we are a stable country and a safe place to live. With a majority government, a sound financial system and a low dollar, we are a prime market for international investment. The worse the situation gets in countries like Greece, Portugal and Italy, the more money leaves those countries for more secure places like Canada.
Note: Rudy's observations with regards to the Chinese market have been echoed by this article which was recently published in the South China Morning Post.
Jane:
Truth be told, the majority of buyers in Kelowna are from across Canada. Certainly, international buyers are on the horizon, but currently they hold a small segment of the market.
4. What is your forecast for the B.C. recreational property market this year?
Rudy:
We are positive about the market this year. I think it will be very active year and were finding the first two months already very busy. With mountains, water and acres of untouched wilderness, we are a prime destination for both international buyers, Canadians from other provinces and locals who want to own a piece of paradise.
Jane:
We think it will remain stable with very little change from last year. Stable as far as price and sales volume. It is interesting to see the number of condo and strata projects launching right now, this is showing signs of confidence in our market now and for the future.
The Consensus?
So there you have it. It seems like although real estate has slowed in Alberta, the conclusion, based on visitors to our site, is that B.C. will continue to see demand for recreational property from Alberta and that retirees will continue to flock here from the Eastern Canadian provinces as well. Furthermore, based on inquiries, sales activity so far, and the opinions of our experts, the oil slump will not have a huge impact on the B.C. recreational real estate market. It should be a great year for the B.C. recreational real estate sales.
---
And now, without further ado, on to our Hot Properties for March: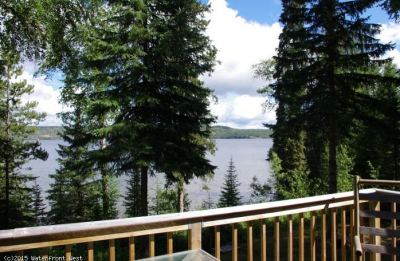 Represented by Fred Gorley Royal LePage Prince George
---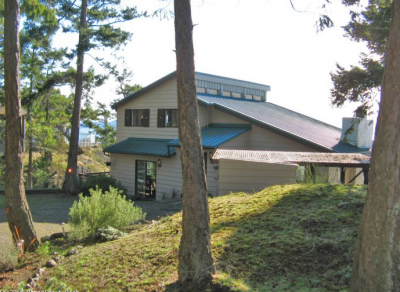 Artist's South Facing Waterfront - Watch the Whales, Bask in the sun and enjoy the views. This could be a great family gathering place or easy full time living and best of all, it could be yours! Great View Value and Great Lifestyle here!
Represented by Sherrie Boyte & Sam Boyte
Dockside Realty Ltd. - Pender Island
---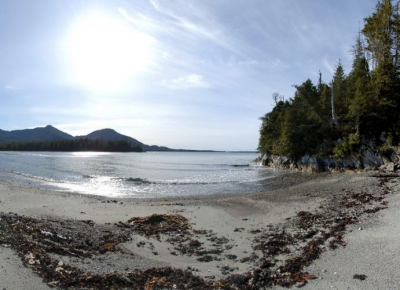 One of Kind! 265 Acre Private Oceanfront Fishing Paradise, with approximately 6,060 feet of ocean frontage on beautiful Porcher Island, about 24 km SW of Prince Rupert. The land has protected moorage in Refuge Bay, as well as sandy beaches on Useless Bay. Located only minutes from Goble Point, this property has some of the best salmon fishing on the North Coast. It has a fresh water creek that runs through the property and is one of only a few oceanfront properties on the island.
Represented by NIHO Land & Cattle Company